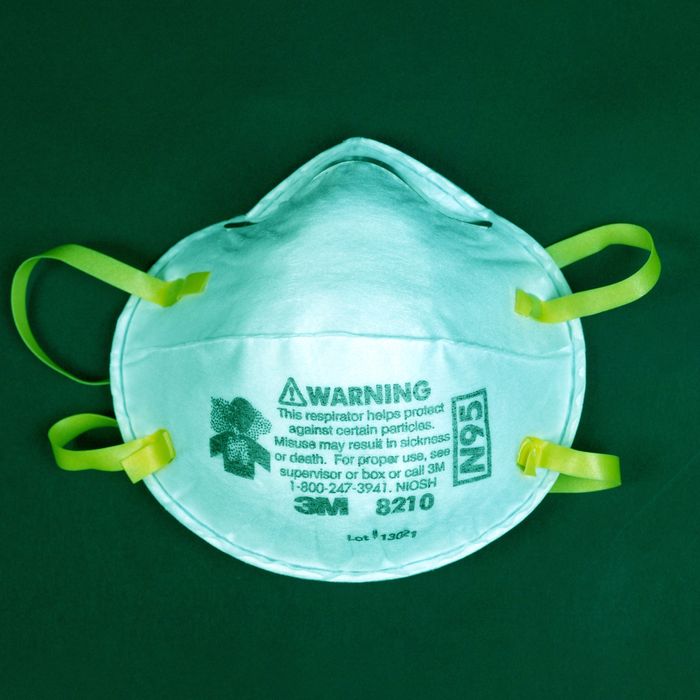 Send 'em to the front lines!
Photo: Nora Tam/South China Morning Post via Getty Images
Despite what you may see at your local supermarket, it remains true that only people who are already sick or work in health care should be wearing masks right now. Provided you are healthy and not looking after someone who has coronavirus, any face masks you may have panic purchased would likely serve a higher purpose in the hands of a hospital. Across the country, doctors fighting the pandemic are running up against a shortage of crucial personal protective equipment, the coveted N95 respirator included.
"Our biggest problem is that we don't have the gear to protect ourselves," a Manhattan ER doctor told the Cut last week, adding that her colleagues were already being asked to reuse N95 masks. "It's completely ridiculous. You're asking us to take care of a sick population. If we can't even protect ourselves, then we're going to get sick and there will be nobody to take care of them."
On Twitter, health professionals have been tweeting pleas for PPE, asking the federal government to activate emergency production of masks, ventilators, and other dwindling medical supplies. So far, though, the Trump administration has dragged its feet, leaving companies, individuals, and televised medical dramas scrambling to fill the void.
Here's how to help get masks and other PPE to the health-care workers who need them, whether that's by donating money or spare supplies you happen to have lying around.
Mask Match
A handy tool for determining where to direct your N95 respirators and surgical masks: Mask Match, a peer-to-peer platform that links health-care workers with individuals willing to donate. If you fall into the latter category, please be aware that you need a stock of five or more masks to be eligible, and you will be responsible for shipping costs. Mask Match, meanwhile, promises that it will vet health-care workers' identities before your precious facial prophylactics go out.
PPE Link
Similarly to Mask Match, PPE Link is a volunteer-run service that aims to connect labs with extra protective gear to facilities and people in need. Both PPE Link and Mask Match direct users to findthemasks.com, which displays donation sites across the country, but if you can't locate a convenient drop-off point, PPE Link will also attempt to put you in touch with a medical center seeking materials.
Donate PPE
A partnership between Silicon Valley engineers and medical students at the University of California San Francisco, DonatePPE.org provides both lists of the items medical professionals currently lack — including but not limited to gowns, eye protectors, N95 and surgical masks, disinfecting wipes, and hand cleansers — and contact information for doctors and facilities in need. The recipients describe what they're looking for and how you can get it to them.
University hospitals
The Association of American Universities Twitter account is keeping a running tally of member institutions seeking PPE. There, you can find links to individual schools' sites and information on what they're doing to help mitigate the crisis.
Check with your state health department
If you're unsure where to direct your efforts, it's worth checking with your state health department to see what can be done. New York governor Andrew Cuomo, for example, is asking companies with unused PPE supplies to contact his office directly. In Washington, another state that's been hit particularly hard by coronavirus, the Department of Enterprise Services is soliciting bulk donations of and looking to buy a specific list of products. Oregon is also seeking PPE donations for distribution around the state.
Financial donations
Don't have any masks? You can still help get PPE to doctors: searching "masks," "PPE," and "N95" on GoFundMe turns up myriad campaigns crowdsourcing money for specific institutions, cities, and states.