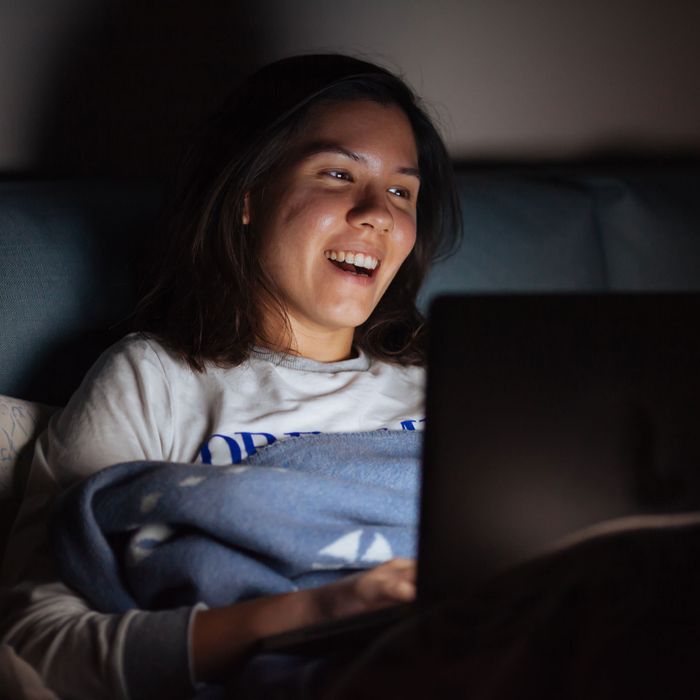 Photo: agrobacter/Getty Images
Please note the story you're reading was published more than a day ago. COVID-19 news and recommendations change fast: Read the latest here to stay up-to-date. We've lifted our paywall on all essential news and updates about the coronavirus.
The best part of seeing a movie with friends isn't the actual act of watching — it's sneaking lukewarm cans of wine into the theater, listening to your best friend attempt to conceal their sobs during a corny scene, and analyzing everyone's facial expression at the end of the film. Which is why it's difficult to imagine how we'll replicate that experience when we're all practicing social distancing for the foreseeable future. But it turns out there's a plug-in that makes group movie nights in the time of coronavirus a little bit easier.
The plug-in is called "Netflix Party" and it allows you to simultaneously stream movies and TV shows while video chatting with your friends. All you need is Google Chrome and a subscription to Netflix — along with an engrossing movie or show to help distract you from these dark times.
While a virtual movie night might not sound comparable to the Real Deal, it does have its advantages. You can make yourself a smorgasbord of all your favorite assertive-smelling snacks without having to listen to your friends' complaints all night long. Or, if your friend insists on watching a movie you find dreadfully boring, you can simply fall asleep halfway through, and already be in bed.
Unfortunately, Netflix's video chat does not yet feature a filter that makes you look prettier. Perhaps something to keep in mind if you decide to Netflix Party with one of your crushes.