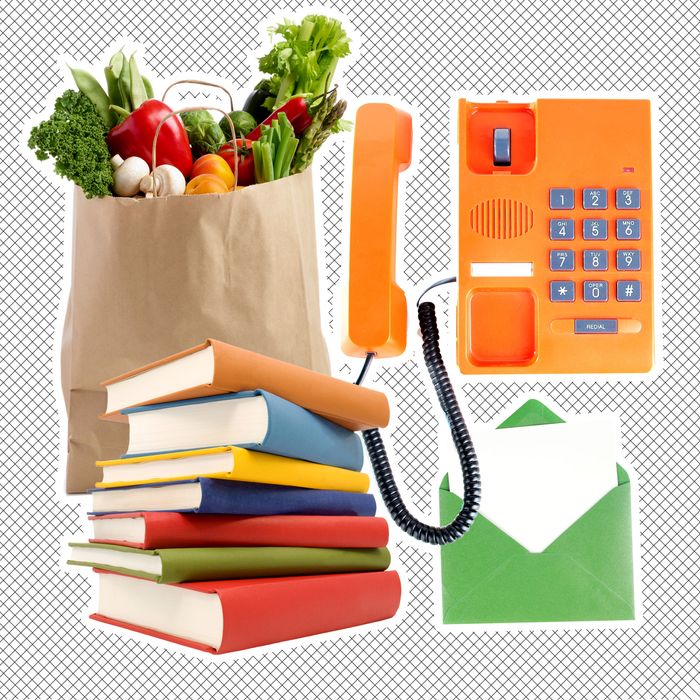 Check in on your loved ones, find a pen pal, and offer to help your neighbors with groceries.
Photo: Getty Images
Please note the story you're reading was published more than a day ago. COVID-19 news and recommendations change fast: Read the latest here to stay up-to-date. We've lifted our paywall on all essential news and updates about the coronavirus.
As the novel coronavirus continues to spread rapidly across the country, life as we know it increasingly feels as if it's been put on pause. In many places, museums, bars, libraries, and restaurants are temporarily shutting down. Universities and public school systems are canceling classes. We've been told to vigorously wash our hands and break the habit of mindlessly touching our faces, and officials are urging individuals to practice social distancing, leaving our homes only when necessary.
Amid all of this panic and uncertainty, many are wondering what else they can do to help others, especially the most vulnerable among us. Here are 10 ideas from the Cut staff.
Call your grandparents.
Call your grandparents or other people in your life you don't call very often. A lot of nursing homes in my hometown have stopped allowing people who aren't paid medical professionals to visit. Also, if you're working from home, it's a good way to pass the time and stay connected. — Sarah Spellings, fashion writer
Buy gift cards to your favorite restaurants and small businesses.
Try to support small businesses and restaurants. They have thin margins, and there's often not a work-from-home option for them. Restaurants in many cities are closing, but in some cases you can still order takeout and freeze. As they say, the freezer is the new pantry. Also, please don't avoid Asian restaurants. — Kathleen Hou, beauty director
Offer to help your neighbors.
One of my neighbors emailed the entire building and offered to run errands for anyone who needs it. It was really sweet, and a good way to reach out to the elderly/immunocompromised people in our building without singling them out. — Izzy Grinspan, deputy style editor
Donate to food banks.
The main thing I've done so far is donate to local food banks — focusing efforts on our local communities feels more important than ever right now. To find your closest food banks, you can search your Zip Code on Feeding America's nationwide directory and donate either food or money. (You can also call ahead to see if the food bank is seeking any products in particular.) — Katie Heaney, senior writer
Support sex workers.
Sex work is a profession that's already criminalized and stigmatized, and sex workers will be hit especially hard by panic over COVID-19 — the most marginalized among them in particular. Consider donating to this relief fund, organized by the Sex Workers Outreach Project, to help keep those impacted by work loss housed and fed. — Callie Beusman, news editor
Order books from independent bookstores.
Order some new books from independent bookstores! This can help authors whose book events were canceled this month, plus help stores whose in-person shopping will take a hit. — Jen Gann, senior editor
Help out your local animal rescue.
Animal rescues are always in need of money and fosters, and now many are unable to employ their normal amount of staff, making the need even starker. You can donate, or contact animal rescues in your neighborhood and see if you can serve as a foster while you're homebound. — Kelly Conaboy, writer-at-large
Help free detained immigrants.
According to the ACLU, people in prisons and jails are "uniquely vulnerable" to coronavirus. Some of these risk factors, like crowding and paucity of health care, will probably require collective action and government willpower to mitigate. Something you can do right now, though, is donate to free people confined to immigrant detention centers in New York, through a campaign organized by the Brooklyn Community Bail Fund. — Hannah Gold, writer
Continue to pay your nanny.
If you regularly employ someone whose livelihood depends in part on what you pay them — a babysitter, or a cleaner, or a personal trainer — and you are still receiving your normal paycheck, let that person stay home but continue to pay them. You can also donate to the National Domestic Workers Alliance's Coronavirus Care Fund, which will provide emergency assistance to vulnerable workers across the country.— Amanda Arnold, staff writer
Write letters.
This seems like a good time to put to use all the various stationery and pens I've accumulated over the years, sending mail to friends and family in addition to calls and FaceTime. It'll be nice to have something to look forward to. — Katie Heaney, senior writer
We're committed to keeping our readers informed.
We've removed our paywall from essential coronavirus news stories. Become a subscriber to support our journalists. Subscribe now.