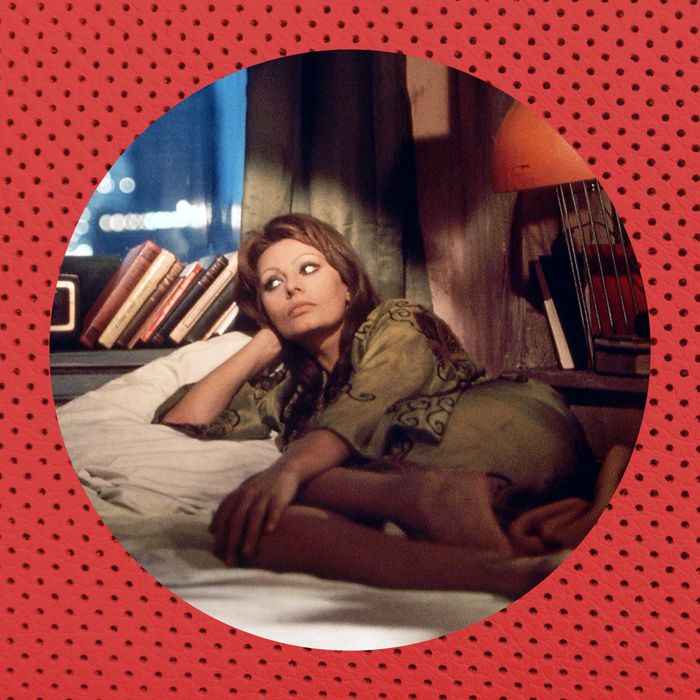 Photo-Illustration: by Stevie Remsberg; source images Getty
Hot Bod is a weekly exploration of fitness culture and its adjacent oddities.
When you ditch a birthday party to sprawl on your couch and idly flip through magazines, there's nothing more delicious than being alone. When isolation is mandatory, you get thoughts. You might think, for example, that you should trim your hair or make quick pickles or needlessly start a fight with your friend on the group chat or paint a series of abstract nudes or find that fruit fly you saw over the lemons and slaughter him. I love all these ideas. There is time enough for all that.
Instead, though, you might aim for the root of the excess energy. When housebound, your blood can get all stagnant or, alternatively, it can go all wild and bang off vein walls. You need an exhausting hobby. Your hobby is now push-ups. Your hobby is squats. Your hobby is running up stairs until you heave like a little fish on a dock. Hold a plank until you don't want to anymore. Lie on the ground, pant, find new clusters of dust bunnies. Clear them out. Continue doing whatever you were doing before.
If the outdoors are available to you, emerge! The natural world is a salve. Sunshine is antiseptic. Get that new air. Bike very fast, run however. Make a phone call and walk up a hill near you. Don't think about all the times the gym was there and you didn't go. Sometimes I wonder if the gym actually exists, or if it's just a rude specter that exists to haunt us about unfulfilled intentions.
If you're lucky enough to be cooped up inside, working from home, adopt a new critical framework where your domestic sphere is a parkour court. Your chair is a platform for leaping onto. Your chair is a hoisting foundation for tricep dips. Your bed is a foam pad designed for balancing core exercises. Do not test your shower rod to see if you can do pull-ups. Cans of diced tomatoes can be arm weights. A bottle of laundry detergent is a kettlebell. A wall is a wall, suitable for wall sits. Did you know there's an entire subset of YouTube exercises that employ broomsticks as if they were kayak paddles? They are a collection of delusions, something to measure your own mental state against. Now your doorframe is a portal to isometric strength-building. You're not leaving that door anytime soon, so you might as well block it.
This isn't a transformative get fit, get strong, change your life bender. This is just to stave off the wolves. It's to make a distinctive break between waking up and starting your day, between futzing around your coffee table all afternoon and unwinding into the night.
If you're spiraling: Do some push-ups. If you find yourself refreshing a .gov website more than two times in two minutes: Do some push-ups. If you are impatient, jittery, mean, frustrated, short of breath, or imitating a puddle with your whole torso: Do some push-ups. If you're lying in bed under the waft of bleach sprayed onto your light switch ten minutes ago: Do some interesting push-ups. If you're clenching your jaw like it is responsible for containing the fate of the geopolitical economy: Do some push-ups. Low-grade shoulder tension is not a core exercise. Don't I wish it were — I would be an Olympic shot-put hopeful.
Of course you can channel your restlessness into a creative hobby, though these tend to go dark under the crushing pressure of the hothouse. Mary Shelley, under the influence of cabin fever, wrote Frankenstein. In The Shining, Jack Nicholson wrote a bunch of modernist poetry. If you'd like to prepare an audition for the all-girl remake of The Lighthouse, let your mind wander.
Otherwise, look up "hotel room workouts" and pretend you're a traveling woman of leisure in a different world. Don't get lost picking a workout for more than three minutes or you will disintegrate into the void or accidentally visit a .gov website. Just pick a plan. Just pick a video. Another video will play after that. Let it. You will find yourself watching the houseplants behind a fitness influencer grow, propagate, and conspicuously disappear.
If you're stuck inside, it's going to be weird. This is unavoidable. But you can get weird in a fashion that's as distracting and freeing as possible. In Cynthia Heimel's 1983 bad attitude cult book Sex Tips for Girls, she proposes a truly interesting perspective on exercise:
Imitating Mick Jagger is the most sophisticated form of aerobics. To do it properly, you must be careful not to lapse into being Keith Richards. Keith, although often more compelling than Mick, is not aerobically sound, since he mainly just stumbles … When you can perform eight to ten songs without passing out, consider yourself aerobically fit.
Eight to ten songs! Approximately 30 minutes of relentless hips?! Weird, exhausting, just what the doctor ordered. Jack Nicholson himself could clear his mind to that. It is currently 2020, though, so you can pick whomever you'd like to embody. Big Freedia has a new album coming out on Friday, for example. You can look up an energizing song (Ciara, Billie Eilish, Megan Thee Stallion) and type "fitness" after it and see if there's an exercise routine pinned to it.
I do appreciate this very 1983 point about keeping yourself honest regarding stumblers vs. strutters. You can't just have a bad attitude, you must apply vigorous energy to this attitude. You must pick a strutter. Alone, I can only dance in a purely spontaneous, discovering personal freedom way if there's beer. When I was friends with people who were thinking about becoming actors, they were always asked to "dance like they're alone in their room" at auditions, which I think outlines that this is a fantasy that's hard to pull off. Anyway, it's easier with beer.
There are many outlets for your wildness at this trapped time, but if you are slouching/muttering/pacing around your confines and you don't know what to do: MOVE UNTIL YOU SWEAT AND PANT AND HAVE NO MORE BREATH OR THOUGHTS. Drink some beer with lime for the vitamins.
Please note the story you're reading was published more than a day ago. COVID-19 news and recommendations change fast: Read the latest here to stay up-to-date. We've lifted our paywall on all essential news and updates about the coronavirus.