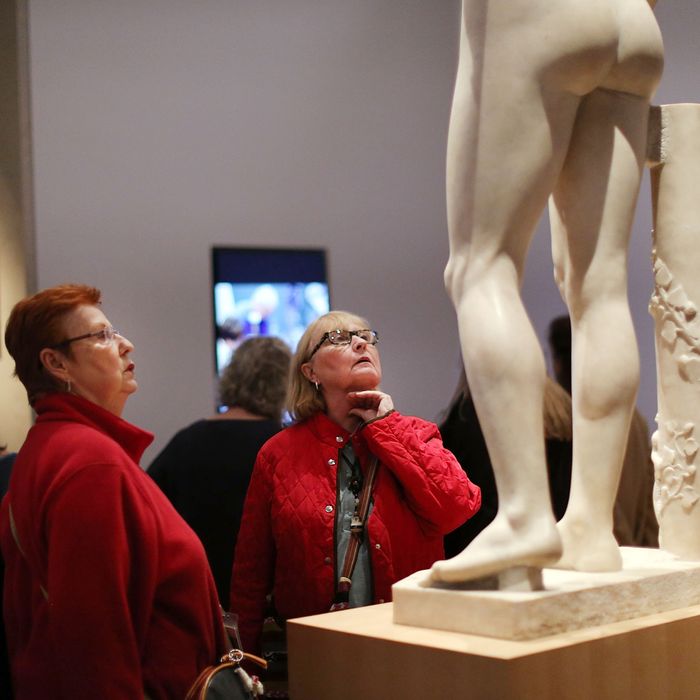 Photo: Spencer Platt/Getty Images
"How do we feel about this penis?" was a question asked of me on a recent Saturday afternoon: 34 degrees, sunny, only a mild chance of ejaculate. The questioner: Professor Andrew Lear, a corduroy-clad, detachable-glasses-sporting professorial man standing in the sunlit opening galleries of the Metropolitan Museum of Art.
Lear is the founder and lead guide at Oscar Wilde Tours and Shady Ladies Tours, which lead LGBTQ+ and women-specific art-history tours at museums around the world. His newest tour, "Unhung Heroes," is a sausage-filled jaunt through stylized pubic hair, statuesque anal intercourse, erections hidden under top hats, and painted women who, according to the guide, are "so clearly having an orgasm."
Per Lear, in the art world, two body parts tend to be "fictionalized" most: breasts and phalli. Specifically: "Penises follow ideology. Breasts follow fashion." In other words, if one looks to the breasts of art history, you will likely find them sliding all over the chests of women – from just below their necks to the complete opposite sides of their torsos to wherever it was "fashionable" at the time to have one's breasts situated (as modified by corsets, dresses, and brassieres). Penises, however, are more ideological, growing and shrinking (literally) across history depending on the social mores of the time and place.
The ancient Greeks, for example, associated small members with self-control. As a result, the majority of classically handsome heroes in Greek art ("Is that a twink?," asked a tour member of a servant boy on a vase) have teeny-tiny friends between their legs, while beasts, satyrs, and "ugly men" have three-foot one-eyed monsters. "Their idea of what a good penis was is not what we'd expect," Lear explained.
Of course, as Lear pointed out, "Penis size does not actually correlate to character that well." The trend of big dicks possessing a positive connotation ("big-dick energy") is a relatively recent one. "I remember when it [in his words, "big-tits, big-cock culture"] became a trend," said Lear, waxing horny about time spent in Britain in an unknown decade.
The Greeks also believed penises could be "worn down" if circumcised, and often tied their genitalia "up" (where?) with "dog leashes" (yep) when playing sports in the nude, possibly to deter any excitement (the ancient version of "no homo"). At this point point in the tour, the older gay men had a healthy debate about whether or not wrestling is sexy.
After showing the group a bust of Antinous, Emperor Hadrian's favorite boy toy who was deified and worshipped following his death, Lear led us away from the Greeks and Romans toward Papua New Guinea. "Are they having anal sex?," shrieked one journalist, gesturing toward a totem-pole-like structure. "I was the first person to point that out," said Lear, full of pride.
No matter how educational and enjoyable the tour ended up being (and it was), my brain could only buzz, Carrie Bradshaw–style, when it finished: "I couldn't help but wonder: Does size matter? Could I be an Antinous, deified by a daddy? Would it be more enjoyable to sleep with ancient Greek men, smol and self-controlled? Or the ones in the Dutch paintings with whispy, skinny mustaches, just like any other Brooklyn boy? Can someone actually make their pubic hair look like that?" The friend who came with me summed up my feelings: "Who knew everyone was so horny?"
Below, you can scroll through some of the tour's highlights and imagine a world of tiny kings. The tour opens to the general public on Saturday, March 14.
According to Lear, these cheeks, belonging to Perseus With the Head of Medusa, constitute the "best butt in the Metropolitan Museum of Art."
And this, from Marcantonio Pasqualini (1614–1691) Crowned by Apollo by Andrea Sacchi, is one of "the great penises of the Met." It's located in the very center of the painting (extremely rare in the art world), balls hanging loose in front of the painting's other central figure: a castrated singer.
This one is an oil flask, meant to be worn AROUND THE NECK OR WRIST, perhaps the boldest fashion statement in all of Western history. Its purpose is not entirely known, though it may have been medicinal. "Don't think we invented ED," Lear advised.
A Platonic ideal of a tiny member, perfectly manscaped.
These two horny heathens. Lear said you can tell they are getting it on by the man's hand placement on his own back ("That's a fucking gesture. I've seen this gesture many times," he said). But, per ancient ideology, the man is totally flaccid.