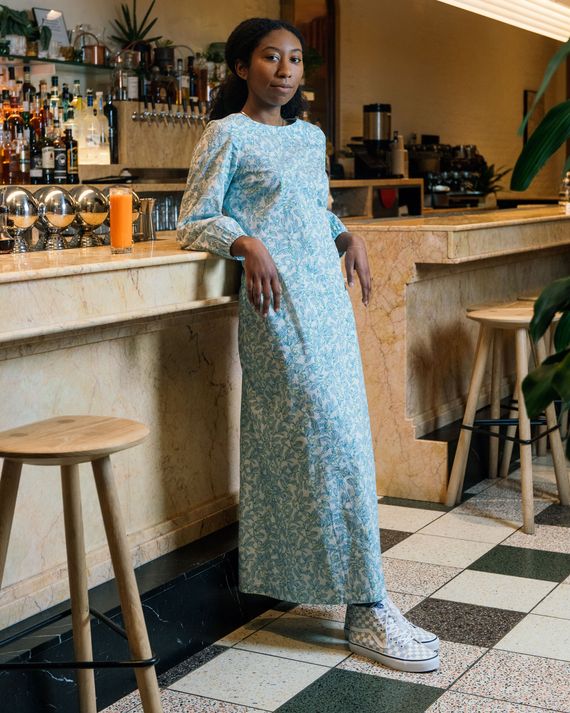 Trinity Mouzon Wofford started her wellness line, Golde, with her fiancé, Issey Kobori, when she was 23. It began with a single product, a turmeric tonic, and has since grown to a tight edit of other tonics, matcha, and face masks. She was inspired to start a wellness brand by her mom, who has an autoimmune disease and saw some reprieve when she switched to holistic medicine.
Mouzon Wofford went to New York University to study medicine, with plans to become a holistic MD. "All was well until I found out from my mom that she had to stop seeing that doctor because she couldn't afford it. I abandoned my doctor dreams, frustrated by the lack of accessibility in holistic care, and sort of fell into a marketing career," she said. "But I knew I wanted to get back to that world somehow. That's where Golde came in."
Now, she's the youngest black woman ever to have products stocked at Sephora. To encourage transparency about what it's like to be an entrepreneur — and to give advice to other entrepreneurs — she hosts a series on her Instagram called #Office_Hrs, where she discusses marketing, finances, and self-doubt. We spoke with her about thrifting, her favorite sneakers, and her daily routine.
On her everyday outfits: I definitely wear sneakers daily. I optimize for comfort, since I'm usually running all over the city. My favorites are Nike AF1s, Air Max 90s, or Vans. Right now I work from home, but we're finally getting an office soon-ish. I always get fully dressed for work even if I don't have any outside meetings, because it helps create structure for my day. That said, my daytime and evening uniforms are pretty much the same, so I rarely feel the need to make a swap. If I'm running late, my go-to is vintage Levi's, a mock neck sweater from Uniqlo's Lemaire collab a few years back, and my yellow-gold vintage hoop earrings.
Shop Trinity's Favorite Sneakers
On starting her brand: I launched Golde with my now-fiancé, Issey, three years ago. I was working in marketing; he was in the fashion world. We were both 23 at the time we launched, which I think gave us that boost of naïve confidence that we could launch something with zero resources and just figure it out.
On personal style: I've gotten so much more comfortable in my own skin. When I was younger, I paid a lot more attention to what was trending. Now I wear what makes me feel good, period. I've also transitioned to mostly vintage. My move to thrifting started out of necessity a few years ago as a broke entrepreneur, but it's something I'm holding onto even as I start to actually pay myself a salary — finally!
On her daily routine: I'm an early riser. I'm typically up around 5 to 6 a.m. If I have the willpower to work out (rarely), it happens around then. I check my emails around 7 a.m. and handle anything that's easy or urgent. From there, I shower, have some breakfast, and get dressed and ready for my day. Around midday I try to make time to get out of the apartment/office if I haven't had any outside meetings. I like to go for a long walk around my neighborhood in Bed-Stuy. Walking in the sun and fresh air is so important on a daily basis, and it helps me finish the workday strong — another reason for comfy footwear, too. I'm usually done with work by 5 or 6, and transition over to sous-chef duties for Issey, who is definitely the culinary lead around here.
Shop Mock Neck Sweaters
On her go-to outfit for big meetings: Navy blue trousers (I don't do a lot of black) and this extremely cool vintage blazer I permanently borrowed from my father-in-law. I wore that to ring the opening bell of the New York Stock Exchange this year.
On the best and most challenging parts of her job: More than anything, I'm grateful for the absurdly loving and supportive community that's formed organically around our brand. There's really nothing more special than hearing from someone about how your work helps them to feel like their best self. That's pure magic. We're rolling into year three now, so our baby business is growing up! Now that we're building out a team, I have to think more about prioritizing my development as a leader and not just my personal interests. It's a new challenge, but I'm really excited about it all, honestly.
Trinity wears Vans shoes and a Coco Shop dress.
If you buy something through our links, New York may earn an affiliate commission.