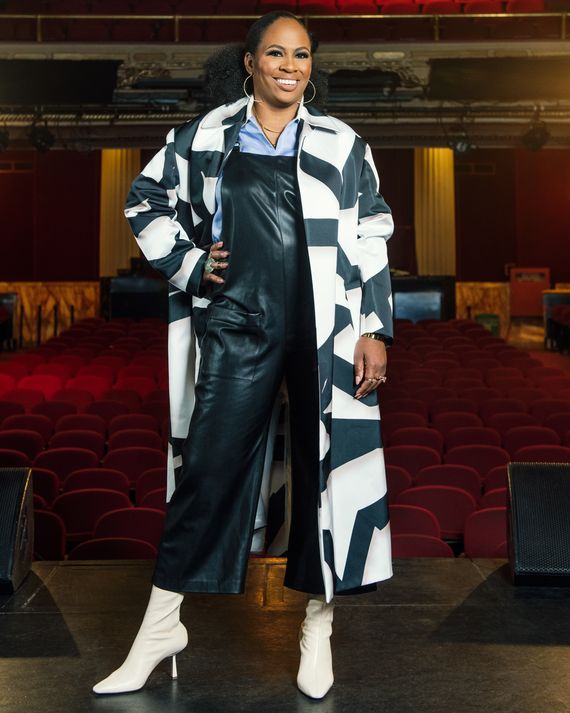 Kamilah Forbes is the executive producer of the legendary Apollo Theater in Harlem. But she had a long, award-studded career as a director and producer before she got there. She studied theater at Howard University and partnered with Chadwick Boseman to make a play about their generation. Shortly after, she started the Hip-Hop Theater Festival, which led to the creation of the HBO series Def Poetry Jam, starring Mos Def. Over the show's seven seasons, stars like Jaime Foxx, Kanye West, and Tracy Morgan appeared to perform spoken-word poetry. "At that time, poetry on television was not a thing, so it was like, how do we bring these countercultures and opportunities to the mainstream? How do we bring the fray to the center?," Forbes says.
That philosophy guided Forbes's work as a curator for the Kennedy Center, where she brought in artists like John Legend and Nas to perform with the symphony. At the same time, she was directing Broadway and Off-Broadway plays, including Lorraine Hansberry's A Raisin in the Sun, starring Denzel Washington (Forbes was the assistant director). We talked with her about "the magic of theater," what she wears to work, and how her style has evolved.
On her everyday outfit: I love a black bootie with a little heel. That's what I'm wearing right now; you can wear them with a dress or pants. Does it differ when I'm traveling? Yes, because when I'm traveling, I like to be comfortable. I like to travel in a sneaker kind of shoe. 
I try not to change. That's the worst thing. I hate trying to have three outfits for the day. Sometimes I do need to change, especially if it's a gala or something, and that happens quite often, or if I need a little more dressy-dress. As a go-to, I love a black jumpsuit that I can wear in to work and just go out in and it still looks kind of funky.
Shop Jumpsuits
On packing: When I pack, I'm carry-on all the way. If I can just do one bag, that is goals. If I could get rid of my purse, I would. I just don't like traveling with a lot of stuff. What do I wear on the plane? It depends on if I'm going straight into a meeting, because sometimes I'm wearing my meeting clothes. I'm wearing that black blazer to go from the plane directly into a meeting. But if not — and I do a lot of cross-country traveling to L.A. — I try to wear clothes that are as comfortable as possible. I will wear these really comfortable, go-to, dressy-looking-but-not pants with a top and a bomber.
 
On an average day: I leave my house at a quarter until eight, I do drop-off with my little one — she's 3 and a half — at daycare. Most of the time, I'm driving. I really like driving because I can wear whatever shoe I want, I can wear whatever coat I want, because I don't have to worry about the weather, but I can also catch up on phone calls and I can listen to podcasts. When I get to the office, a lot of times (like today), I only get out of this chair to go to the bathroom. I am in meetings back to back, phone calls — it's crazy. I have to carve out times to actually do my own work, and then six o'clock hits, and I'm going home and doing it all over again.
On when she figured out her calling: I was always fascinated by what happens when you step inside of the theater, with the lights and the sound all working together with people's voices and storytelling. I was fascinated by that at a very young age and then started doing a lot of theater in high school.
Shop Bomber Jackets
On the best part of her job: Chasing possibility – the possibility of what the Apollo Theater is and what it can be – is what gives me joy. That's the power of artistry and creatives, that they're constantly in that space of chasing what they see in their mind, whether it's a song, a moment, a story, or a narrative. You're constantly chasing that point of euphoria, perfection, however you describe it, and working in that space is inspiring and joyful.
On the challenges of her job: The biggest challenge I face at the Apollo Theater is balancing how we build in a creative way with the realities of logistics management. There are constraints, whether that's timeline or financial, and they're always in a tug-of-war with vision.
On how her style has changed: I used to only come to work in baggy jeans and my kicks, that was it, and overalls. I used to stay in a pair of overalls. I don't know why I don't wear those, I think it's because they don't fit. I've literally grown out of my clothes.
Kamilah wears Aquazzura booties.
If you buy something through our links New York may earn an affiliate commission.