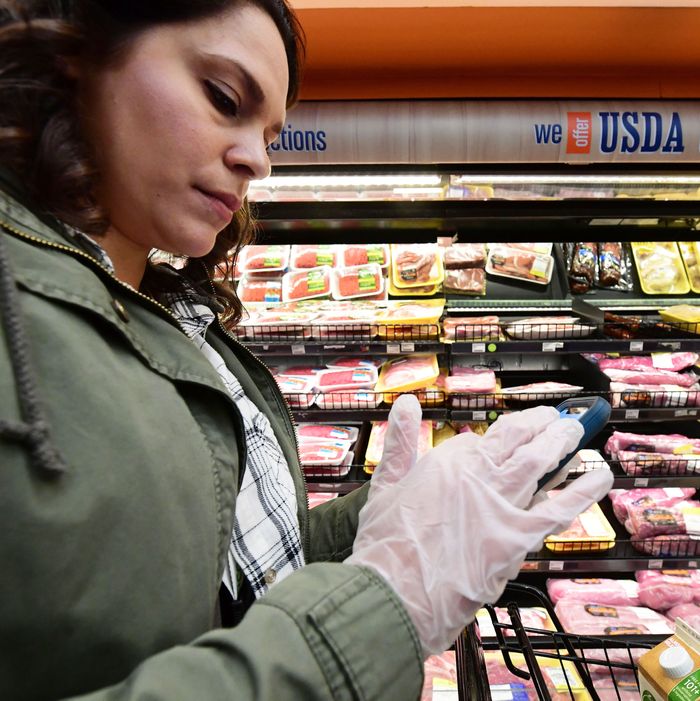 Photo: FREDERIC J. BROWN/AFP via Getty Images
If you've been using Instacart to do your grocery shopping during coronavirus isolation, you may have to look elsewhere next week: Instacart workers have announced that they are going on a massive nationwide strike starting Monday. Per Vice, beginning March 30, workers will refuse to accept orders until Instacart concedes to a list of terms regarding coronavirus safety and sick leave.
Instacart shoppers, who are braving stores amid stay-at-home orders and often delivering food to sick people in quarantine, have been hailed as "household heroes" by the company during the crisis. Last week, Instacart said it was hiring an additional 300,000 workers to meet the huge spike in demand for shoppers as more users are are complying with stay-at-home orders and not leaving the house.
But current employees, who are gig workers rather than full-time, say they don't have the adequate protection and support they need to continue shopping and deliveries as cases of coronavirus rise across the country. As of now, Instacart offers up to two weeks of paid sick leave, but only if workers test positive for the coronavirus, despite the fact that it's still very difficult to get tested in the United States without severe symptoms. And that policy only lasts until April 8; in New York, for example, experts have said that the number of cases may not peak until weeks later.
Worker demands include that Instacart provide hazard pay of an additional $5 per order; give shoppers free hand sanitizer, disinfectant wipes, and soap; and offer expanded paid sick leave to include workers with preexisting conditions who have been told to stay home by their doctors. Like Amazon, Instacart stands to profit immensely during the pandemic as the number of orders skyrocket. (Amazon warehouse workers in the U.S. and abroad have also staged wildcat strikes recently to protest working conditions amid the pandemic.) Vanessa Bain, a California Instacart shopper leading the strike, pointed out the disparity between full-time Instacart employees staying at home with full benefits and gig workers who are risking their health. "Without [us], Instacart will grind to a halt," she said.