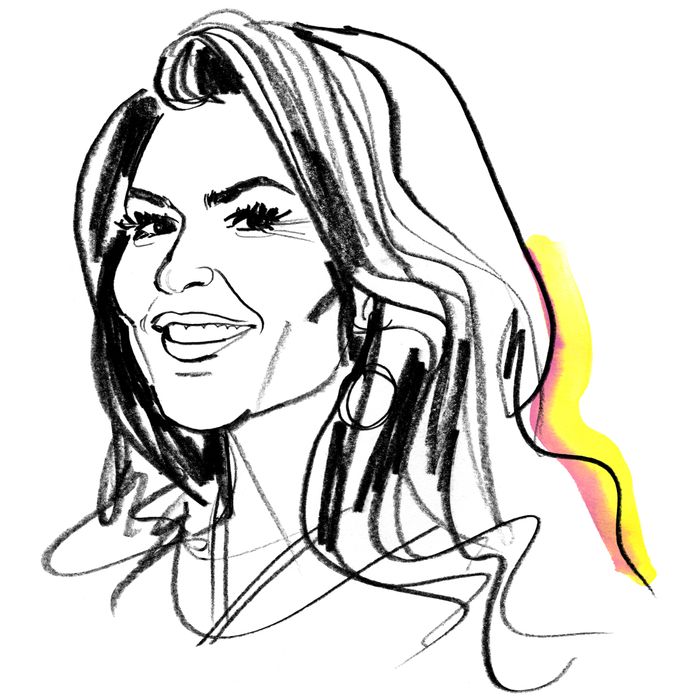 Illustration: Lauren Tamaki
Shania Twain is a country singer-songwriter and five-time Grammy winner. She's sold more than 90 million albums, and her 1997 album Come On Over remains the best-selling country-music album of all time. Her latest album, Now, released in 2017, debuted at No. 1 on the Billboard 100 chart. She's currently performing her show Shania Twain "Let's Go!" at the Zappos Theater at Planet Hollywood Resort & Casino in Las Vegas, and she appears in the movie I Still Believe, which came out last week. She lives in Switzerland with her husband and two dogs. Here's how she gets it done.
On her morning routine:
I am always in a different time zone. When I am in Las Vegas doing shows, I stay about four to five weeks at a time. But I travel around, going to Geneva, London, and New York — wherever work and life takes me. I don't have a set time that I wake up. I sleep when my body needs it. For breakfast, I usually do blueberries, almonds, and coffee.
I have two favorite kinds of mornings. In Vegas, I start by going out to the horses, giving them their breakfast, brushing them and cleaning out their stall.  I ride most days. That's my "gym" when I'm there. I always have a barrel with baskets of apples and carrots by the door of my house and the horses are close enough that they can poke their head in.
When I'm in Switzerland, I go out in my pajamas and pick roses. For the past 20-something years, I've been cultivating roses. I have about eight varieties, which bloom all season, like Sunset roses — they have a white, soft center. I make bouquets and put them all over the house. All summer, my friends get arrangements. I also have lots of wonderful hydrangeas.
On managing her schedule:
After my morning, I get on the laptop and start dealing with my schedule. I'm pretty good at prioritizing. I am very organized. I'll highlight things with colors. Red is always something that needs to be edited. Green is anything that relates to my horses, my dogs, those kinds of things. Pinks and purples are for family and friends. Yellow is always something technical or logistic. Yellow to me is like a school color, I don't know why. It's busy to be Shania.
On vocal workouts:
I get on the mic very regularly and experiment with my voice. There's no fixed schedule, but I do it every week, sometimes for five hours at a time. I travel with a microphone, a guitar, and a Protune, so I can do it everywhere — that's my vocal gym, my workout gear.
In a hotel, there often isn't anywhere that's quiet enough to work my voice out. I'm always happy when I get a room with a big walk-in closet. I often do it there. I made my last record in my bathroom, the quietest room of a house. It was the best for being able to make a lot of noise.
On working as the creative director of her Vegas show:
It takes about a year to put a show together. I deal with stage managers, lighting, all kinds of technicians. I also work on the graphic design and even do costuming. With costuming, I'll put a story together and use photo references. I'll have my department searching for fabrics and textiles. I like to see how clothes move and their weight, so I like looking at video footage. I like to watch classic fashion designs, like from the 40s and 50s, and then I bring it into whatever current style there is on the runway. I'll start with the songs first, then the mood of those songs, and the colors coming together. It's a very fun thing to do. I wish that was my full-time job, but then I wouldn't have time to do anything else.
On costume changes:
During my show, I have eight costume changes and about a minute and a half for each. You can do a 30-second change too, but in those cases, you wouldn't change your shoes. When there's a costume change, I have three girls with me in there like a pit crew.
Everything has to go off and back on in the right order. If anything goes wrong, you don't make it, so you have to be fast, efficient, and accurate. We have a lot of laughs, as it's quite physical. You run off and run on. You work up a real sweat. But it's all fun. It's an exhilarating thing, those quick changes. The show pattern never gets boring.
On calming herself before a show:
Before you go out, you have to be in the zone. You have to focus on being in the right frame of mind. I've always had terrible stage fright. I don't like to be stressed when I go on stage. I need 20 minutes of silence. I'm not on the phone. Prior to that, I get dressed, get hair and makeup and go to the bathroom. You have to hydrate and time your last bathroom break because it's the last one you'll have for the next 97 minutes.
After the show:
My dog, Melody, goes onstage with me in the show. So when I get to my dressing room, I congratulate her first thing, and talk about how well she did on stage that night. That's always fun. That's the lovely thing. Then we go home, and I put the horses to bed.
On that infamous song lyric about Brad Pitt:
He's always been impressive! I wrote that lyric with a sense of humor. I hope he has always taken it that way. It was a fun thing to say.