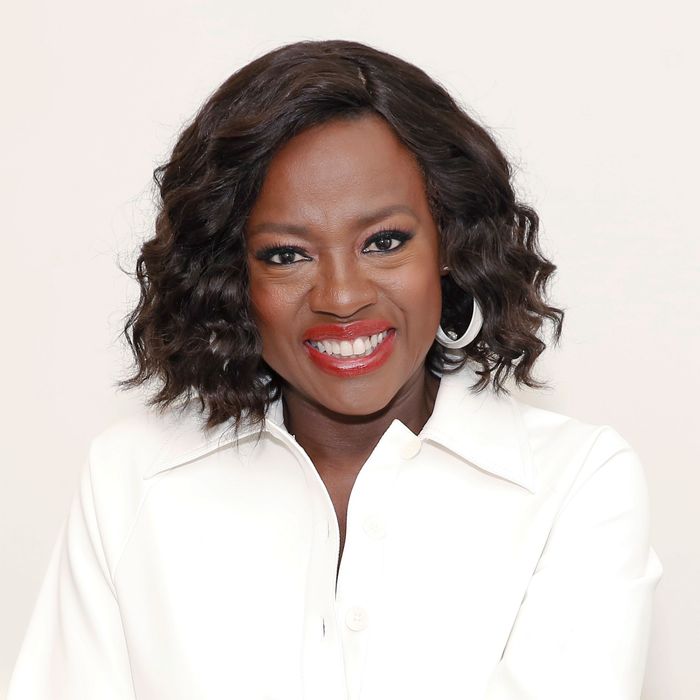 Photo: Rachel Murray/Getty Images for L'Oréal Paris
Viola Davis's voice should be a candle scent. It vibrates with warmth and depth, cushioning you like a sonorous weighted blanket. When she says the phrase "six-pack abs," it sounds like it came out of the Constitution. So naturally L'Oreal Paris hired the 54-year-old Davis to be the new voice — and face — of the brand. The Cut recently talked to Davis about beauty, aging, and believing in your personal worth.
You've said that you had to stifle who you really are in order to "be pretty" in years past. How did you stop?
It stopped as I grew up. It's what happens. Other values take over. Authenticity and being true to yourself becomes so important. Seeing yourself in the eyes of the people who really love you sets in. And for some reason, you wake up one day and stop apologizing. It naturally happens if you open yourself up to it.
For me, it was a series of "aha" moments. Certainly doing How to Get Away With Murder, being a lead for six years, helped. Like art always does, it allowed me to find yourself in a way. I found myself in Annalise Keating, through playing a character who is flawed, messy, complicated, and allows herself to be.
Also, being a mother to a 9-year-old girl and having to uphold the same values I want to instill in her had an impact, as well as getting older. All those things converged and created a perfect storm of change. I stopped trying to be a people pleaser.
Wait, how did you stop that?
I don't think a lot of people understand their worth. I really believe people think you have to do something to be worthy — go to an Ivy League school, win an Oscar, or achieve something unbelievable in life to be valued. But it's God-given. You come out of the womb being worthy and awesome. That's not the narrative from social media. It's, I just turned 65 and I can wear a bikini or I have six-pack abs. People also equate their net worth to their worth. But you're just worthy. End of discussion.
No one can tell you how to get to that point. When I was in my 20s, I wasn't comfortable with being me. You're very susceptible to the outside noise. No one tells you to value the inside voice. There are no rituals in American culture that tell you to sit in silence. The most honest voice is the one inside you.
You have your parents, social media, and every group in America talking to you about brands. Listen, even me. All of that drowns out the only voice which counts, which is yours. Only when you live long enough do all the other things quiet down. Hopefully it happens sooner rather than later. But you begin to get it. Every time you listen to it, it won't steer you in the wrong direction.
How do you listen to your inner voice?
When people say they want to be an actor, I ask them, "What kind of actor do you want to be? A famous one or a regular one?" What do you want to do and what will make you happy? What does your heart tell you?
Personal happiness can only be defined by the person. But it's a constant affirmation that needs to be beaten into you, before you get it. I've gotten it because I've spent time. You don't ever know when you're going to expire. But when you get older, you know it's getting closer. And that getting closer, makes you really wake up fast to what's important. You're not there in your 20s. The privilege of a lifetime is being who you are. That's it.
Do you journal or do anything like that as a ritual?
No, it's experience. At 54, I've seen my father die from pancreatic cancer. I have a child. I've been married. All those rituals in life force you to dive and come into yourself at the same time. I value life because I've witnessed death. I also value it because I want to leave my child a legacy that isn't just a house. I value love because of my marriage. I understand partnership and working for the good of the whole. All those values which are bigger than the physical world. That supersedes journals.
It is nice, simple, and very difficult, because we've got to be in the world. The world is filled with broken people who are dictating a different narrative and it's hard to distract yourself from all of that.
Being in Hollywood, how do you listen to your inner voice amid the pressure of unrealistic beauty standards?
I feel that a lot. There's unrealistic beauty standards and that whole idea of a classic beauty, which black women have never been a part of. There's a beautiful word called "liberation." You have to define you. When you get to a certain point, you have to realize, I can't be anything else. You give up. It's like holding onto the side of a cliff and you have two fingers left and you just let go. That's where I'm at. I think the operative word is realistic. At a certain point, you either realize it's unrealistic or you don't.
How does beauty play into all of that?
Beauty is an enhancement. I am in a place where I'm comfortable with myself. It's about enhancing where you are in your life. When I look at the words "Age Perfect," I think it means you're right at the perfect age. Aging is perfect. The process of aging, whatever you are, is perfect. Some people have problems with the word "perfect." I love it. It means it's just right.
If you buy something through our links, New York may earn an affiliate commission.