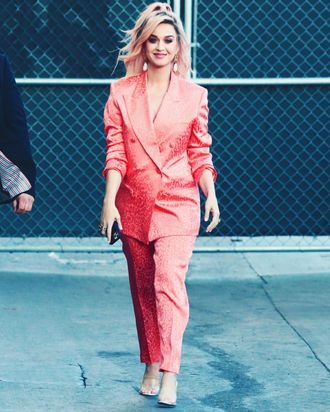 Katy Perry
Photo: GP/Star Max/GC Images
Yesterday, Katy Perry had an announcement to make. "You are cordially invited to the premiere of #NeverWornWhite," she posted to her various social-media channels, teasing her new song and accompanying video. Alongside the text, she attached a three-second video, in which she appears to come to some sort of epiphany while wearing a gown entirely composed of flowers. And then … there was something particularly eye-catching.
The video ended with a brief shot of Katy wearing a white dress and suggestively holding her stomach, which certainly appeared to be protruding. Many, myself included, wondered if Katy was not simply announcing a new song and video, but that she and Legolas were expecting their first child together. As it turns out, we were right. The video, which dropped last night, features a longer shot of Katy holding a very real baby bump. This is "probably the longest secret" she has "ever had to keep," Katy went on to say in an Instagram Live post after the video premiered, adding that her due date is sometime this summer.
While she and Orlando Bloom have yet to finalize their wedding plans, the two have been dating off-and-on since January 2016, which is quite some time in celebrity years. Also, after Orlando proposed to her with a huge flower ring last Valentine's Day, two sources told People that the couple wanted to have a kids, with one adding, "sooner rather than later."
And it looks like she's relieved to have the secret finally out in the open:
This post has been updated.