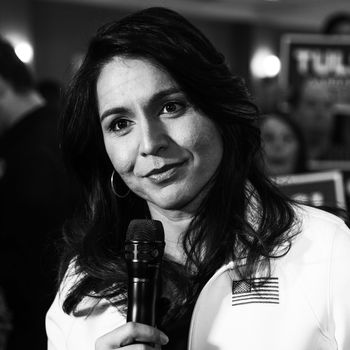 Photo: Scott Eisen/Getty Images
As the news broke that Senator Amy Klobuchar would be imminently announcing the end of her presidential campaign, perhaps you thought, Wow, Elizabeth Warren is the only woman left standing. But if you thought that, you would be wrong.
Because Hawaii representative Tulsi Gabbard is still in the running, people. Did you forget? As the field of candidates narrows from over 20 to just 5, despite not yet securing a single pledged delegate in the first four Democratic primary races, and not polling high enough to appear on stage for a debate since November, Gabbard remains in the race. Though Tom Steyer, Pete Buttigieg, and now Klobuchar, who all had significantly more demonstrable support among voters, have dropped out, Tulsi remains. She has not yet called time.
Gabbard's persistence is not totally surprising given that she has always been an … unusual candidate. Her signature silver hair streak has long been a metaphor for, well, a renegade political streak, including some rather strident foreign policy views, sassy comments on the debate stage, having an outspoken sister who denounces the mainstream media, and fighting very publicly with Hillary Clinton. With very slim chances to get anywhere close to the nomination, even some sympathetic voters are wondering just what she's up to. With the frontrunners in the primary becoming clearer, Klobuchar and Buttigieg are supposedly backing Joe Biden. Gabbard endorsed Bernie Sanders in 2016, but in order to do that this time around, she would have to drop out first. She is showing no sign of doing so, and released a campaign video on Twitter earlier today.
Anyway, consider this a reminder that Tulsi Gabbard is still running for president, in case you needed one.