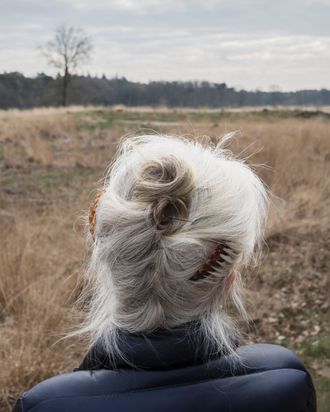 Photo: Mischa Keijser/Getty Images/Cultura RF
As soon as we all started working from home, some members of the Cut team gave up wearing bras. Others started sporting sweatsuits every day. Me, I thought it might finally be time to go gray. When David Mallett, owner of the salon where my beloved colorist Maddison Cave works, announced he was shutting his doors to help flatten the curve, the decision seemed sealed.
I've considered letting my gray roots take over for years. Every time I see someone with gorgeous gray hair, I lean toward it more, romanced by the promise that I will look equally glamorous.
Three years ago, when I went freelance, a number of elements about my new lifestyle appealed to me. I could stop wearing dresses and uncomfortable heels. Going forward, it would be comfy corduroy pants and oversize sweaters with clogs or sneakers. I might have been the last to hop on that old Celine train, but I took to it naturally. Relaxing what was above the neck seemed the next logical step.
Until I talked to my friend Marcy, a publicist. "Now is NOT the time to go gray," she cautioned me, and then asked when I'd last had Botox and if I'd ever had lip filler.
I saw her point. I was a 50-something woman who'd gone around hinting that she was 40-something, and I had just lost my job in the beauty industry, where the main message was anti-aging. If I wanted to stay relevant in that game, which was the only game I really knew, I needed to maintain appearances. I scheduled my next color appointment.
Things are different now. We're hunkering down and focusing on protecting ourselves, thereby protecting others, and staying healthy. Personally, I go through most days without putting on makeup (Zoom days being the exception), I'm taking more baths than ever, I'm making homemade soup every other day, and my husband and I take hikes at dusk. It would not be the worst idea to lay off the bleach that made its way into my scalp and nostrils for decades.
As we anticipate coming out on the other side of this, I look forward to seeing how my hair will come out of it, too. Maybe I'll look as sexy as Maria Cornejo, who confided to me back in October that she struggled with making the leap, but has never looked chicer. Or maybe I'll bear that kind of silver-fox regality Maye Musk has. Or maybe I'll hate it. Big deal. I'll be the only one giving a shit about it, anyway.
For now, I observe my gray growth with a welcome curiosity. I'm probably fooling myself, but sometimes it looks almost platinum … ? I know the awkward days are yet to come, but awkward days of hair color bifurcation should be the least of any of our problems. And there will be a lot of us walking around looking like sideways Sias. Solidarity in numbers!
Maddison promises that she'll be waiting with open arms and bowls of tint when we're all allowed to hug each other again. When that day comes, I'll likely be clinging to her knees like a toddler, screaming through uncontrollable sobs, "GET RID OF IT!!" But maybe I won't. Maybe revealing our true colors will be a catharsis. Maybe this will shift how women feel about hiding something that's natural, if we're newly awake to what's important.
Like, who decreed that gray hair was ugly in the first place? Probably a man. My man laughs at my color moratorium, comparing me to a broken record or a boy who's cried wolf a few too many times.
"You've been threatening to do this for years," he said to me the other day. "It's about time you followed through."
Easy for him to say. He's bald.