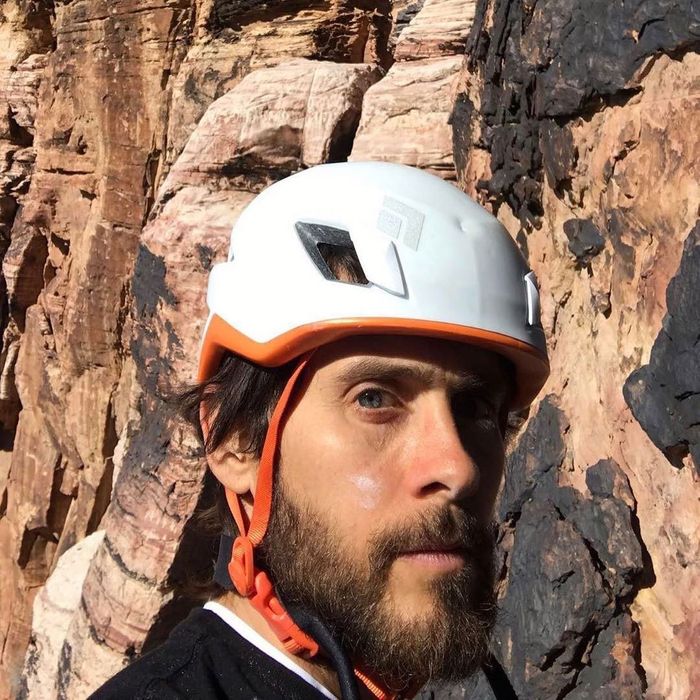 Jared Leto.
Photo: @jaredleto/Instagram
Please note the story you're reading was published more than a day ago. COVID-19 news and recommendations change fast: Read the latest here to stay up-to-date. We've lifted our paywall on all essential news and updates about the coronavirus.
Earlier this month — unbeknownst to most of us, probably — Thirty Seconds to Mars front man and decapitated head model Jared Leto, 48, embarked on a silent meditation retreat in the desert. "No phone, no communication, etc." he explained. Twelve days later, he emerged, only to have his quietly earned serenity immediately disrupted by the news of the rapidly spreading coronavirus pandemic.
"Walked out yesterday into a very different world. One that's been changed forever. Mind blowing — to say the least," Leto wrote in a tweet and an Instagram post on Monday.
Whether Leto fully complied with the silent retreat's mandate is a little unclear; six days ago, someone posted a video to his Instagram of him climbing a bridge in Kiev, Ukraine. In any case though, it seems he largely wasn't around to watch the coronavirus explode from an outbreak into a global pandemic. What a jarring reality to emerge into after 12 days of silence in the desert … almost as jarring as watching Jared Leto walk around the Met Gala with a decapitated replica of his own head.
Leto isn't the only person to have been kept in the dark about the increasingly dire global health crisis. On Monday, the Guardian reported that the cast members of Big Brother Germany, Canada, and Brazil — who had entered their studio homes at the beginning of the outbreak — had yet to be informed of the pandemic.
In his post, Leto did not comment on how this would affect the scheduling of Mars Island, his annual music festival–slash–cult on a private island in Croatia.