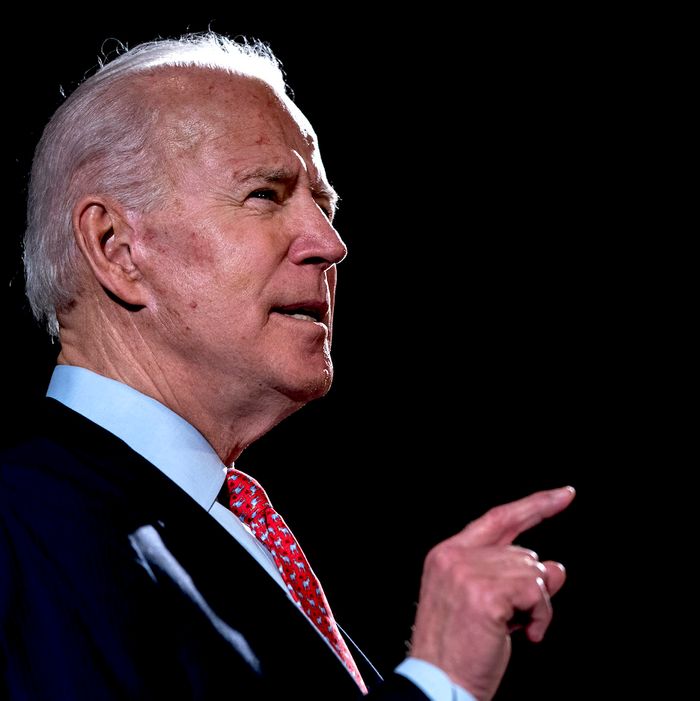 Joe Biden.
Photo: Drew Angerer/Getty Images
Now that all the women — aside from Hawaii representative Tulsi Gabbard, whose quiet campaign somehow remains active — have dropped out of the Democratic primary, many voters feel frustration at the obligation to, once again, pick a president from one of two white men. At Sunday night's debate, however, current front-runner Joe Biden pledged to name a woman as his running mate.
"If I am elected president, my cabinet, my administration will look like the country, and I commit that I will pick a woman to be vice-president," Biden said, when asked about his plans for choosing a second-in-command. "There are a number of women who are qualified to be president tomorrow, and I will pick a woman as my vice-president."
This response is perhaps not hugely surprising, as the four potential veeps Biden proposed in November were all women. And it also echoed Sanders's previous response to a question about gender diversity among his prospective appointees. "My administration will look like America," Sanders said. "Last I heard, over half the people in America were women, and in terms of my cabinet, that will be the representation." When asked specifically about his VP pick, Sanders responded that "in all likelihood" he will also name a woman as his VP, adding that it would be his "very strong tendency" to select a progressive woman as his running mate.
Biden's promise came after Sanders brought up the former vice-president's long support of the Hyde Amendment, which bars Medicaid from funding abortion except in cases of rape, incest, or life endangerment, effectively denying abortion care to low-income women. Biden only walked back that position, which he'd held over decades, in June.
Neither candidate made any indications as to whom they might tap as VP, but either way, it looks like this particular prophecy may be fulfilled: Second place is ours.