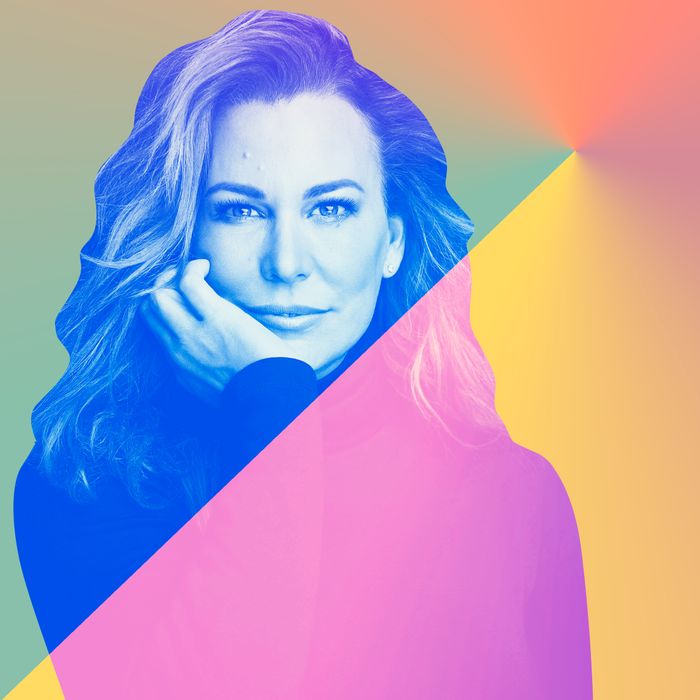 Photo: Courtesy of Kate Somerville
When Kate Somerville was 20 years old, she got her aesthetician's license. But that wasn't enough.
"I tromped in to every dermatologist's and plastic surgeon's offices and said, 'Here's my business plan. I want to rent space from you, I will do medical-based services and I'll take care of patients, pre- and postoperatively.' And every one of them said yes."
Somerville says she inherited this kind of tenacity from her father, a "get back on that horse" kind of guy. She also had to grow up really fast. Her mother walked out when she was 9, and a subsequent rocky relationship with her dad's new wife led Somerville herself to walk out. She was 15.
She still managed to graduate early and go to college, but she wasn't done with school yet. She was living near San Luis Obispo, working three waitress jobs when she decided to go to aesthetic school.
After a few years working in doctors' offices, she joined skin-care brand Biomedic before moving to L.A., where she approached the city's most famous plastic surgeon at the time, Steven Hoefflin. Hoefflin opened a clinic for Kate and took her under his wing, saying words of advice that changed her life.
"He sat me down and said, 'Katie, if you really want to make it, you need to innovate with your own products.'"
Kate Somerville Skincare debuted in 2005, a year after Kate Somerville Clinic opened on Melrose Place.
"Nicole Richie came, Paris Hilton, Lindsay Lohan, and the entire cast and crew of Grey's Anatomy. We just became a hub."
Around this time, California passed a law barring practitioners from performing injectables and lasers.
"I did those treatments so well!" she bemoaned. "I'd been trained by the best, and that's what built my reputation. But it forced me to delegate, and being pulled out of the treatment room turned out to be a blessing."
A blessing, because she turned her focus to product development and Unilever took notice. In 2015, it acquired the brand. Somerville says she appreciates the giant's labs and support during our current skin-care boom — a trend she partially credits to KKW.
"When Kim came on wearing so much makeup, girls first wanted to learn the artistry and then they realized it was too much, but they wanted to have good skin. I think it was a natural progression."
Somerville spoke with the Cut about her devotion to Mexican food, the wonders of goat's milk, and why she'll never buy expensive bed linens again.
What's your definition of beauty? Being true to yourself — whatever that may be. Be comfortable in your own skin, and don't be afraid to march to your own beat.
What do you think when you hear the term "clean beauty"? I believe in formulas and ingredients that are clinically proven to transform skin. A lot of what clean brands are saying makes scientists roll their eyes. I come from a medical standpoint where studies mean something, and a study has to be science-based for me to jump on a bandwagon.
Where, if anywhere, in your beauty (or life) routine are you not quite that "clean," "green" or "sustainable"? I get wrinkle-reducing injectables from my amazing staff at our clinic. This may not be "clean," but my staff of nurse practitioners and registered nurses are the best at what they do.
Please fill in the blank as it pertains to your beauty or wellness routine: I think about _______ a lot. Results with ease.
What is the opposite of "beauty"? Doubt.
What is your morning skin-care routine? Depending on the day and where I am in the world, I start with an exfoliant — Liquid ExfoliKate or ExfoliKate Intensive. I hydrate my skin with DermalQuench Wrinkle Warrior, which has three different sizes of hyaluronic acid, apply my Kx Bio-Mimicking Peptides to help with anti-aging, seal it all in with the Peptide K8 Power Cream, and protect everything with UncompliKated SPF 50.
What's the last beauty product you use every night? Retinol Vitamin C Moisturizer.
What aspect of your beauty routine tends to be neglected? Exercise!
What, if anything, is usually on your lips? I've been loving Hourglass Lip Treatment Oil.
What shade, if any, is usually on your toes and/or hands? Natural pink — my go-to is Bubble Bath by OPI.
Mascara of choice: Hourglass Caution.
Foundation of choice: Hourglass Vanish.
What makeup item would you never skip? I never leave the house without mascara.
Facial cleanser of choice: My Gentle Daily Wash for an everyday, soothing cleanse. I swap in the EradiKate Daily Acne Cleanser or ExfoliKate Cleanser depending on my skin needs.
Fragrance of choice: Natural oils, like lavender and peony, but I also like the scent of Kai Body Lotion.
Bath or shower? Bath — twice a day! When my eczema flares up, I use Aveeno Oatmeal Bath, but I also love Epsom salts and essential oils. Then Curel to seal in the hydration.
What discontinued beauty product do you mourn? The bronzer clay you used to be able to find at the drugstore.
What beauty product still needs to be invented? A fit pill! Where you can eat whatever you want and still stay fit.
What was your first beauty-product obsession? When I was young, I battled severe eczema. I was an athlete, too, and the sweat would create irritating patches on my skin. I grew up on a farm and always had fresh goat's milk in the refrigerator, and one day my mom put goat's milk in my bath. I'm not sure what made her decide to try it, but that goat's milk really soothed my skin, and I later learned that goat's milk has proteins which help with the skin barrier, and natural lactose which gently exfoliates. This inspired me to look for different remedies to solve my skin issues, and that's how I got into skin care. I also went on to develop my Goat Milk Cleanser and Goat Milk Moisturizer, which are amazing at soothing dry skin.
Daily carryall: My Balenciaga motorcycle bag.
Who makes your eyeglass frames? Chrome Hearts.
How do you like your bed? My bed is my FAVORITE place on Earth. White sheets, white frame, white pillows with a Tempur-Pedic mattress. I used to spend a lot of money on sheets, then I found Lucky Brand linens last year, and they are soooo soft. Inexpensive and soft.
What's your living room like? Soft and airy with natural light.
What do you splurge on? Good Mexican food and margaritas!
Current favorite fashion item in your closet: My kimono.
What color is your usual fashion pop of color? Army green.
Favorite spa: Ojai Valley Inn.  
Spa treatment of choice: A great massage.
If you were a makeup shade, what shade would that be? Bronzer Tan.
What beauty-related reality show, if not invented yet, would you love to watch? All the real beauty secrets of the most beautiful people, and dive into what they really do — not just their aesthetic approach, but what they do to stay beautiful inside and out.
Any hidden or secret talent or skill you possess? I'm a really good skier.
What is your personal definition of misery? Being lonely.
What is your personal definition of glee? My animals, friends, and family around my home in Santa Barbara.
What was the most recent interesting conversation you had? I had a really great conversation with a colleague on DNA — being able to cure diseases through DNA that's missing. We were discussing the Netflix documentary Unnatural Selection, which is about CRISPR gene-editing technology.
What would the name of your autobiography be? Am I Done Yet?
Who would you like to star as you in the film adaptation? Megan Mullally.
Favorite smell? Peonies.
Least-favorite smell? Cat urine — I have three cats, and it's the worst.
What do you think Pantone's color of 2020 should have been? Coral, as we need happier times this year, and a color with vibrance and ease.
What calms you down? A bath or my husband.
Comfort food: I can eat Mexican food every day.
Most impressive dish you make: My Chicken Verde — that's what everyone asks me to make.
What do you foresee as the top beauty trends for 2020? Microbiome and skin barrier. Building your barrier back because we're overdoing it with actives in skin-care products.
What product in your brand's product domain is misunderstood and should be a best seller? My RetAsphere Micro Peel is literally an overnight sensation. When you wake up from applying it the night before, you wake up with luminous, glass skin. It dramatically transforms your complexion overnight.
What product in your brand's product domain is currently your favorite (understanding that this could change all the time)? My Peptide K8 Power Cream because it's an all-in-one anti-aging, soothing, and moisturizing cream.
If you won the Powerball tomorrow, what are the first five things you would do (after, of course, donating the majority of it to your top charities …)? My son's education — he's so creative, and I'm excited to see who he becomes; invest in furthering young female entrepreneurs; start a home and clothing line with soft and clean materials for your skin; pay off my home and not worry about financial stress.