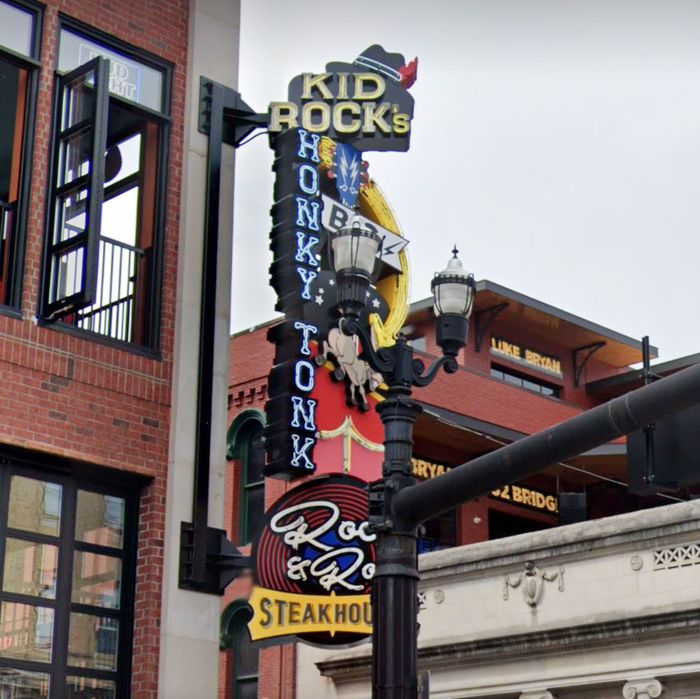 Defiant.
Photo: Google Maps
Please note the story you're reading was published more than a day ago. COVID-19 news and recommendations change fast: Read the latest here to stay up-to-date. We've lifted our paywall on all essential news and updates about the coronavirus.
Amid an escalating global pandemic, a brazen few remain recklessly defiant: the approximately 3,500 French Smurfs who recently assembled in Landernau, gleefully flouting their government's 1,000-person cap on mass gatherings; the U.S. president, who appears to have doubled down on hand-shaking in this era of mandatory social distancing; and Kid Rock's Big Ass Honky Tonk Rock & Roll Steakhouse, which will not be closing whatever Nashville's mayor might say, thank you very much.
On Sunday, restaurateur and co-owner (with Kid Rock) of Kid Rock's Big Ass Honky Tonk Rock & Roll Steakhouse Steve Smith issued a statement rejecting Mayor John Cooper's directive that area bars and restaurants shut their doors to mitigate the spread of coronavirus. Smith, who owns a handful of venues on Broadway — the city's premier destination for touristy nightlife — acknowledged that while he "appreciate[s] the efforts of Mayor Cooper to combat the COVID-19 virus," he does not appreciate the selective, "unconstitutional" targeting of certain businesses, as he sees it, and thus will not abide it. At least not until such time as the governor decides to step in.
As coronavirus cases balloon — in Nashville and across the U.S. — many cities have placed restrictions on the number of people who can gather in one place and on the types of businesses that can stay open. This is a pressing matter of public health, because unless people practice social distancing, the virus will likely continue its exponential spread, ravaging elderly populations. Still, we will continue to need things like grocery stores and pharmacies, but Big Ass Honky Tonk Rock & Roll Steakhouses? Which encourage group activities such as dancing and singing and furious teeth gnashing? These present high risks, and you can see where Big Ass Honky Tonk Rock & Roll Steakhouses would be logical candidates for closure.
Some of Smith's peers have cited an apparent lack "of city or state financial assistance," which would allow them to forgo profits for an indeterminate period of time, in explaining their decision to stay open. And certainly, coronavirus quarantines could be devastating for small businesses, but Smith's statement didn't say anything about that. It did make reference to a recent customer at one of his other Broadway bars, Tootsie's, who "lived through the polio epidemic and didn't recall such extreme measures being handed down in history."
But that boomer must now be in the high-risk-age demographic for coronavirus infection, and we hope they are staying inside. With apologies to Kid Rock, we will certainly be doing so, rather than hitting his Big Ass Honky Tonk as is our Monday-night custom. We will be gnawing our way through our Big Ass freezer steaks in the comfort of our own quarantines, thinking wistfully of touching our faces while we indulgently text our exes. Honestly, does that not sound like more fun?