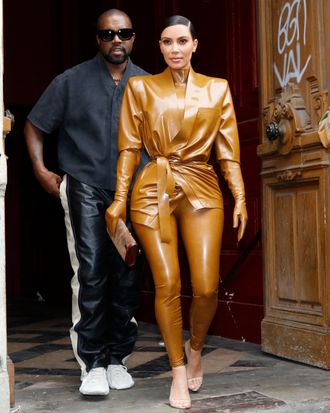 The exact shade of a classic purse candy! Uncanny!
Photo: NurPhoto/NurPhoto via Getty Images
A fun and unexpected source of outfit inspiration: the candy kicking around at the bottom of your purse. (Or, perhaps more likely, your grandma's purse.) Maybe this is not the first place you would look for color palette concepts, but it appears to be fertile ground for Balmain, the label behind the latex suit Kim Kardashian West wore to her husband's Sunday Service in Paris yesterday. It is the exact shade of a Werther's Original, with the same signature plastic sheen. Uncanny, I'm sure you will agree.
Kim went with a two-piece look from the brand's fall 2020 collection — which appears to be a latex mock-neck bodysuit layered under a robe-style latex blazer, with matching latex gloves — while her sister Kourtney opted to go blazer-less, wearing basically the same outfit in Hershey's brown. According to Kim, these were "fresh off the Balmain runway, wow," and also a slight departure from Kanye's preferred Sunday Service uniform: beige. (The Kardashian-Wests love neutrals.)
This was not the only latex suit Kim wore during Paris fashion week, although it is decidedly the most Werther-y of the bunch. (Other colors included chocolate and strawberry ice cream.) As a nod to old-timey caramels, I find this to be an unparalleled choice. However, as a church outfit — recall, this suit made its debut before Kanye's Christian choir — this suit seems like it would be somewhat tricky, the kind of material that sticks to your seat and squeaks conspicuously whenever you move. But, you know, the tighter the turtleneck the closer to God, isn't that what they say?