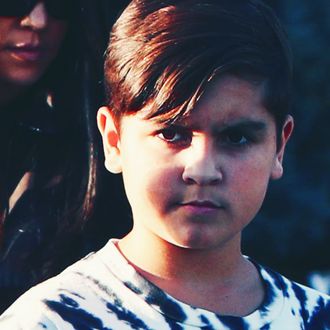 A child who is
not
old enough to spill tea on Instagram Live.
Photo: Hayk Baghdasaryan/Hayk Baghdasaryan/Photolure/TASS
Just yesterday, we found ourselves in a troubled state over disorienting reports that Mason Disick, child of Kourtney Kardashian and Scott Disick, had joined Instagram, and immediately went Live to "spill the tea" on the status of the relationship between his aunt (Kylie Jenner) and her ex (Travis Scott). When did this kid get old enough to spill the tea on Instagram Live? we wondered, while furiously looking up just how old this kid was. Well, as it turns out, he was not old enough to clear up some shit on Instagram Live.
Mason — who is 10 years old, for the record — quickly had his profile deleted, sparking speculation that he was ousted by Instagram for not meeting the minimum age requirement of 13. Actually, it turns out that Mason's parents forced him to delete his Instagram account, which Kourtney clarified last night in an Instagram Live video of her own. (So embarrassing!!!)
"He started an Instagram, like, yesterday and didn't ask us," Kourtney said in the video, elaborating that Mason isn't even old enough to have his own cell phone yet. "He has an iPad and a computer for his school," she continued. That's right: The child apparently used his school iPad to go Live.
While Mason clearly didn't get away with his scheme, I do have to hand it to him: Using your school-provided iPad to spill tea about your family members on Instagram Live, at 10 years old, is pretty bold.