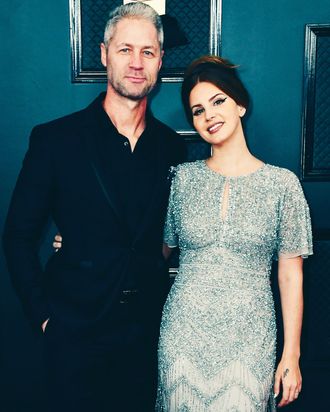 Sean Larkin and Lana Del Rey.
Photo: Frazer Harrison/Getty Images
Lana Del Rey, our lady of melancholia, shared a cryptic Instagram three days ago of voice notes she had recorded in self-isolation. The two voice notes were recorded at 2:17 a.m. and 2:19 a.m., and titled "Grenadine Quarantine" and "If this is the end…. I want a boyfriend." Hmmm. It seemed like a sign that things were not going great between the singer and her influencer cop boyfriend, who goes by "Sticks."
Alas, Sean "Sticks" Larkin confirmed to the New York Times that he and Del Rey are no longer dating. They are, he says, "just friends" who "talk and whatnot," but "have busy schedules right now." Larkin is an officer in Oklahoma, and also stars in Live PD, a reality show about cops.
Del Rey confirmed their relationship to the Los Angeles Times in October, after the two had been seen in Central Park. In their six-ish month public relationship, they divided their time between Tulsa and Los Angeles. In L.A., they went to the beach; in Tulsa, they went to Target and Super Bowl parties. Normal couple stuff, except for the Grammys. Which, for the record, Larkin was not scared of. "I was asked if I was nervous and not at all," he told the Times. "We drive cars 120 miles per hour, and I don't want to sound like a tough guy, but I mean, when you're behind a known shooting suspect and he jumps out the car running, you've got to get out chasing." So that settles that. Drop the breakup album Lana!