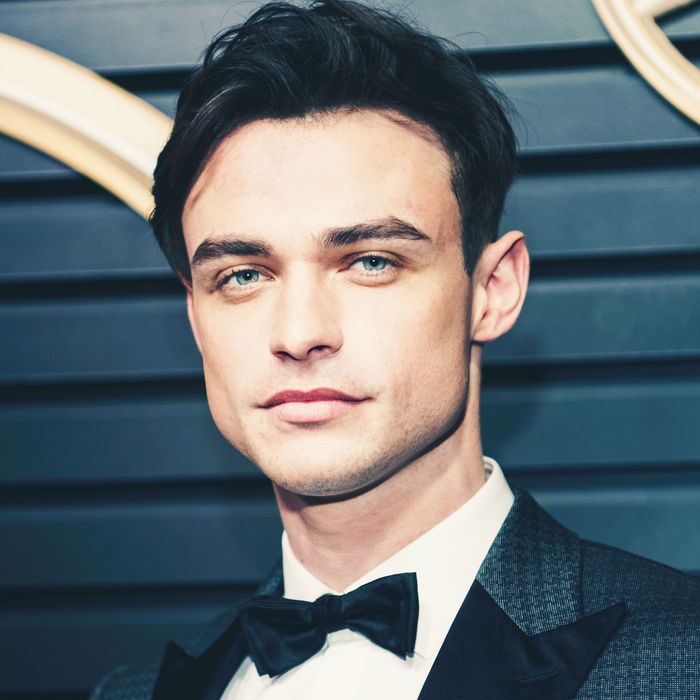 Photo: MORGAN LIEBERMAN/FilmMagic/Getty Images
Have you watched Hulu's High Fidelity? Are you considering watching Hulu's High Fidelity? Maybe you are interested in its premise, in which a beautiful record-store owner (Zoë Kravitz) goes soul searching to figure out why she's always being dumped. But really, aren't you more interested in disgustingly hot men?
If that sounds like you, you've come to the right place, because I'd like to introduce you to someone: Liam, the Scottish smokestack from High Fidelity. The show, a gender-swapping reboot of the 2000 film, features Kravitz as Rob (formerly played by John Cusack) who revisits her "desert-island, all-time, top-five most memorable break-ups" after a catastrophic separation from her last boyfriend, Mac.
Luckily, Liam is not one of her exes, but rather a convenient silver-eyed distraction from them. (As Kravitz's hot mom, Lisa Bonet, was to Cusack in the original). We first meet Liam singing a remarkably sexy rendition of "I'll Make Love to You" in a dirty Crown Heights dive. He has filthy, sweaty bangs that are constantly hanging over his entire face (incidentally, like an actual long-haired Scottish cow):
Rob is into Liam until she finds out, mid-makeout, that this hunky foreign rock star is also 19 years old to her 30-something. In real life, actor Thomas Doherty is 24 years old, which makes him a good age to be my husband.
And I'm sure you'll be shocked to find out that his online aesthetic isn't unlike the dreamboat rocker thing he gives us in High Fidelity:
Doherty is a former Disney Channel heartthrob, best known for his role in The Descendents franchise. He recently graduated to historical dramas, starring as Peter Zavadovsky in Catherine The Great and as a sexy vampire named Sebastian in Legacies. High Fidelity, to my knowledge, is his first role as a hot singer.
Anyway, after receiving the information about his age, Rob leaves, but the two reunite days later and sleep together, which results in a devastating scene wherein Liam is clad only in black briefs and a pendant necklace:
If Liam's presence doesn't convince you to watch High Fidelity, I don't know what will. For me, he prompted a jarring (but humbling) return to my hideous groupie roots, but even if you haven't experienced the particular horror of a music boyfriend, Liam's sex appeal and chemistry with Kravitz makes their dalliance an extremely fun bit of an already very fun show. And at the end of the day, not even a completely incomprehensible clavicle tattoo can put off the heady seductive power of a scratchy Scottish alto: