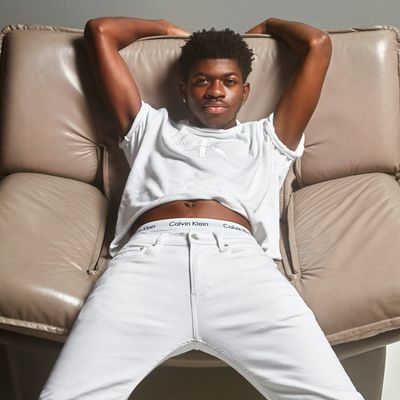 Photo: Mario Sorrenti for Calvin Klein
At the ripe old age of 20, Lil Nas X has the world at his feet. In addition to his wildly successful country rap collaboration, "Old Town Road," with Billy Ray Cyrus, he's become a Gen Z style icon, a symbol of greater acceptance around sexuality in hip-hop, and now, one of the new faces of Calvin Klein's spring 2020 jeans and underwear campaigns, alongside Justin Bieber, SZA, Hunter Schafer, Kendall Jenner, Colombian singer Maluma, and actor Lay Zhan.
In celebration of the the ab-baring, glisteningly sweaty photographs for the collection, the Cut talked to Lil Nas about style inspirations, gender expression, and his #MyCalvins moment.
What attracts you to cowboys? Do you think you'll ever leave Western style behind?
I've had so much fun playing with Western wear this last year. Without "Old Town Road," I probably wouldn't have ever thought to try it out, but part of why I love it is you can do it in so many different ways. I've done classic all-black with fringe and also full neon pink with gold details. By changing colors and materials, you can make it new and exciting every time. But I'll definitely start playing with some new looks very soon.
Who are your style inspirations?
I take inspiration from basically everything I see around me — people, colors, shows, movies, all of that. I work very closely with my stylist Hodo Musa to come up with new and different ideas. I love bright and bold colors, but I still have so many things I want to try and experiment with.
Tell me about two of your signature looks: the single dangly earring, and the skinny mustache.
I've been wearing the dangly cross earring since high school, and it's just always been my thing. Something small to contrast the usual diamond earrings I would wear. And honestly, I just like my mustache this way.
W has praised you for "exploring uncharted territory in men's fashion" and "redefining masculine expression." What do you think of that?
I think it's a huge compliment. I honestly just wear things that I think are cool, but for people to be viewing it as something that is having an impact on the industry, that's even better. The lines are so blurred these days. When I try something on, I don't think about 'this is too feminine' or 'this is too masculine' — I go with what I like and what I feel good in. It doesn't necessarily matter to me what gender it was intended for.
You've definitely established yourself as a Gen Z style icon at 20 years old. What do you think it takes for that to happen?
It still feels crazy to hear that people think of me as a style icon. I mean I think the looks I've worn are fire too, so it makes me happy that people have loved them as much as I do. I think it takes pushing the boundaries of what people think is cool or normal, being unique, and trying things no one else has tried.
Tell me what it was like to work on this campaign.
I had so much fun working on this campaign with Calvin Klein. The vibe on set was mad cool, the whole team was awesome, and I got to meet SZA and Hunter Schafer which was awesome. The message behind this campaign really spoke to me too, so I was honored they thought of me to be a part of it.
The campaign is about confidence, and uses the tagline "Deal with It." Are you naturally confident?
Honestly, I wasn't naturally super-confident when I first started out, but I'm definitely a lot more confident and comfortable now. Being thrown into the industry, I learned that you can't necessarily please everyone, and someone's always going to have something to say about you and your music, but if you're being authentic and you fully believe in what you're doing, they can't take that away from you. The "deal with it" attitude is really empowering and sums up the mentality that I try to practice in my life now.
The campaign also celebrates self-love. How do you celebrate yourself, when you're having a bad week?
Whenever I'm having a bad week, I try and just take a minute to think through whatever I might be upset about, take it as a sign and a lesson to learn from, and move on. It's all in the mentality you chose to have in any situation. I try to remind myself that everything happens for a reason, and that a year ago I would have wished for this life that I have now, so I do my best not to take it for granted and give myself space when I need it.