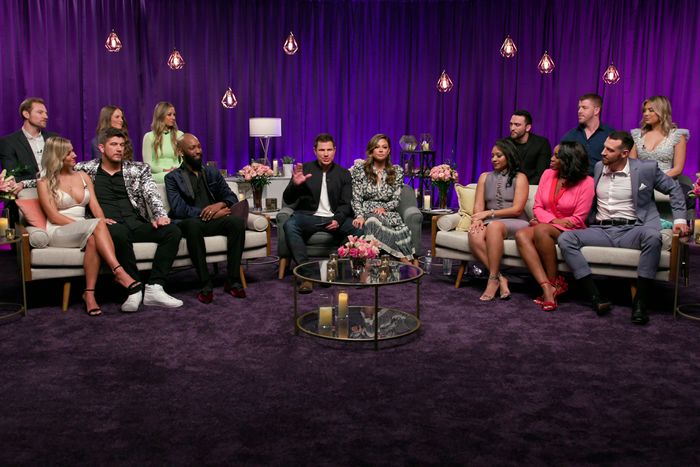 Photo: NETFLIX/Courtesy of NETFLIX
Love Is Blind, Netflix's sensational reality dating show, came to a nightmarish conclusion late last week with its "Weddings" episode. The series (billed as a monthlong "experiment") involves a group of contestants who agree to marry each other after having a few conversations through thin opaque walls over the course of several days. They are then allowed to meet in person, after which they go on a honeymoon, move in together, and get married. The objective is to prove "whether love really is blind."
Several dozen men and women made up the original group of contestants, but most were culled from the cast after failing to get engaged. Of the six couples who moved on, one pair (Carlton and Diamond) dropped out during the honeymoon. Two of the five remaining couples (Amber and Barnett, as well as Lauren and Cameron) were married during the finale.
And today, Netflix brought all six couples back together for a "Reunion" episode. In it, the cast is reassembled — we are told a year after filming, after watching the entirety of Love Is Blind themselves — to be grilled by the show's charmless hosts, Vanessa and Nick Lachey. It's a recipe for disaster, and that's exactly what it was. Here are the three best moments:
The (Re)villainization of Jessica
The episode's definitive moment involved a confrontation between Amber and Jessica, two of the show's most chaotic characters. Early in Love Is Blind — when contestants were still separated by walls — Jessica and Amber competed for the affection of Barnett, a large, bumbling engineer who is now married to Amber, a former tank mechanic who admitted on air that she is unemployed and has $20,000 in debt (a combination of unpaid student loans and a makeup-store credit card). Jessica, meanwhile, is best known for her excessive wine consumption and the dark moment when she shared a glass of Joel Gott with her dog.
After Jessica was rejected by Barnett, she got engaged to Mark, a personal trainer ten years her junior (something that Jessica constantly reiterates). Mark spends most of the show in earnest pursuit of his wife-to-be, but Jessica rejects his affection, often flirting with Barnett when given the opportunity (footage of some of these Jessica-Barnett interactions are aired during the episode). Ultimately, Jessica leaves Mark at the altar.
Now, after watching the entire show herself and seeing BTS footage of Jessica canoodling with her now-husband, Amber confronts Jessica in front of the group, calling her a "disingenuine person" and "fake."
"Bitch, you're sheisty," Amber says, turning to Jessica. (Sheisty: a term meaning deceitful.) "You're so fake. Coming to my face like we were cool. I hope seeing this, you grow from it, because that is not what the world needs — women who go behind people's backs like that."
Jessica bears the rant with a look of grim resolution as the rest of the cast looks on in discomfort. Jessica then apologizes to Amber, explaining that in the context of a 30-day marriage experiment, she'd wanted to vet all of her options as thoroughly as possible:
The Demise of Carlton and Diamond, Reexamined
Diamond and Carlton had one of the most complicated arcs on Love Is Blind. Carlton, a social-media manager who was once on Real Housewives of Atlanta, was briefly engaged to Diamond, a former NBA dancer who is now working on her Ph.D.
Their engagement broke off following a monumental poolside argument during the show's "Honeymoon" episode, parts of which were replayed during the reunion. The argument involved Carlton coming out to Diamond as bisexual. Diamond was accepting of the information but upset at how long it had taken Carlton to tell her. The discussion soon devolved into a blowup: Diamond removed her ring, Carlton threw it in the pool, and Diamond left, quoting Beyoncé in a now-iconic exit: "Watch my ass [move] to the next dick, boy. You ain't married to no average bitch, boy."
In the reunion episode, Carlton and Diamond (who are not together but explain that they had reconciled prior to filming) reflect on the argument. Both parties apologize to each other and describe the backlash they'd received online after the episode aired.
The discussion concludes with Carlton reenacting a proposal to Diamond: "I'm not proposing to you, but I want to get down on one knee and apologize again," he says, kneeling and holding out her original engagement ring. "And I hope that you take this ring again as a significant piece of our friendship and the start of something beautiful without any kind of plan." Diamond, who seems a little nonplussed by the display, accepts the apology and the ring.
Giannina and Damian — Portrait of a Couple No Longer on Fire?
Giannina and Damian established themselves as one of the show's most combative couples early on. Their arguments mostly revolved around what Damian perceived to be Giannina's excessive use of social media (she is an influencer) and one devastating discussion about their sex life:
"You know how you tell me this is the best sex of your life? Have you noticed that I don't return the compliment?" Giannina asked a slack-jawed Damian during a confrontation that takes place while they are in separate rooms. Their wedding day was pure madness, and saw Giannina running out of the wedding tent and into a nearby forest after Damian rejects her.
That's where we left them, but the two arrived at the reunion a picture of love. They're dating, but living separately and getting to know each other like normal people. Damian offers a choked apology for embarrassing Giannina at the wedding, and Giannina gives a stunning monologue about fear of commitment, after which Vanessa Lachey congratulates them for "proving that love is blind," which I'm not sure it is. That said, it is a sweet moment from a couple that has offered, until this point, mayhem.