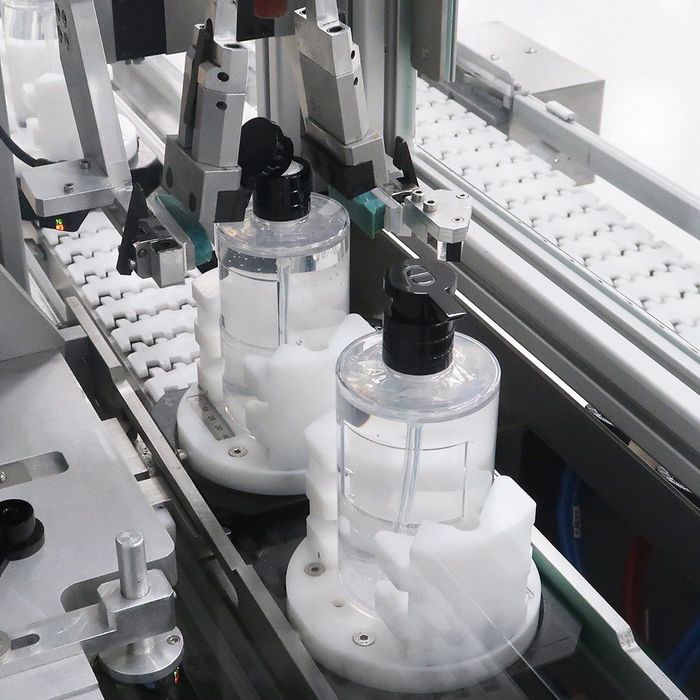 Hand sanitizer in Dior soap bottles.
Photo: @lvhm/Instagram
Please note the story you're reading was published more than a day ago. COVID-19 news and recommendations change fast: Read the latest here to stay up-to-date. We've lifted our paywall on all essential news and updates about the coronavirus.
This week, the LVMH facilities that usually churn out the French fragrance that Charlize Theron likes to bathe in switched over to making something more in demand amid the coronavirus outbreak: sizable bottles of hand sanitizer.
On Saturday night, LVMH chairman and chief executive Bernard Arnault pledged to produce and deliver hand sanitizer to French health authorities and hospitals, free of charge. By Monday, as promised, the facilities that produce fragrances and cosmetics for Christian Dior, Guerlain, and Givenchy had already begun to create the gel, bottle it, and make deliveries. Now, we have our first look at the creations and they are beautiful, inside and out.
French skin-care and beauty products that live in pharmacies have long been lauded for their effectiveness, and that close relationship between beauty, drugstores, and science really came in handy. The Financial Times reports that for one, LVMH already had a bunch of purified water, ethanol, and glycerine on deck, the three main ingredients needed to make hand sanitizer.
Secondly, the publication also notes that Dior, Givenchy, and Guerlain liquid soaps and creams also happen to have a viscosity very similar to that of hand-sanitizer gel, which means LVMH has been able to continue using its usual filling machines, plastic bottles, and pump dispensers throughout the process, hence how Christian Dior hand sanitizers are born. It's a good look — literally, and metaphorically, for the luxury conglomerate helping those on the front lines, and tout suite at that.