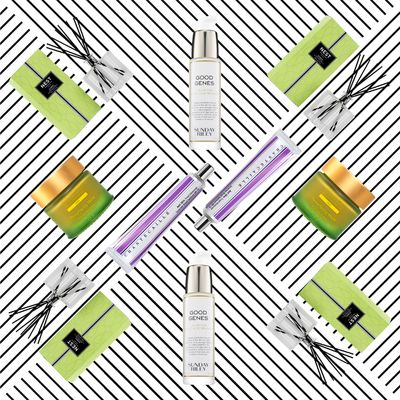 Photo: Courtesy of Saks Fifth Avenue
Clear skin, coiffed hair, smoother-looking lines, rosy cheeks — the beauty industry is a vast world promising all the most gorgeous effects and filled with the most eye-catching labels vying for a coveted spot in your vanity. It should be no surprise to know that women are behind some of our favorite, most innovative products today — claiming their rightful cabinet spaces. To help you dive into the best oils, lotions, serums, blushes, and creams, we teamed up with the experts at Saks Fifth Avenue to curate a list of 15 items created by beauty's most trusted heroines — just in time for International Women's Day. Read on for our favorites.
Sylvie Chantecaille Wants Your Skin to Look Its Best
This Chantecaille find is a velvety, lightweight tinted moisturizer with a three-in-one formula that provides smooth coverage, visibly evens out fine lines, and helps protect skin from the sun. This attention to detail can only come from a beauty camp with deep roots in the game. Sylvie Chantecaille, the brand's creator, is a beauty innovator in her own right — having spent 30 years making products that are both highly researched and impeccably designed.
Laura Slatkin Wants Your Home to Smell Like Luxury
It seems like everyone has a new scent or oil or fragrance nowadays, but few compare to the opulent aura of Nest diffusers. This alcohol-free blend — featuring white floral, sparkling citrus, and fresh green notes — releases fragrance evenly into the air for approximately 90 days, helping elevate every home. Industry icon Laura Slatkin launched the Nest Fragrances brand back in 2008 with an understanding that scents should be impactful and exceptional, and add dimension to any space. Mission accomplished.
Holly Thaggard: Helping Keep Skin Safer Since 2007
Holly Thaggard's Supergoop! hit the skincare market in 2007 and snagged the American Academy of Dermatology's Gold Triangle Award for Sun Safety Education right out of the gate. This feel-good formula — recently updated to be reef-safe — is hydrating, vegan, and cruelty-free, and it acts as an invisible makeup primer. These brightly colored bottles have made their way into beauty cabinets everywhere, begging the question: Is it even sunscreen if it's not Supergoop!?
Tata Harper Will Give You Great Skin Without Sketchy Ingredients
Talk about a literal game-changer. Tata Harper's dedication to skincare excellence is unparalleled. While watching her stepfather battle cancer, Harper learned about toxic product additives that can be stored in the body. So she created a skincare line that combines the best of all-natural ingredients with luxury quality. This Resurfacing Mask helps skin naturally glow, with a formula featuring white willow bark and pomegranate enzymes — no weird ingredients here.
Sunday Riley Won't Make You Wait for Results
Sunday Riley lives by one universal skincare truth: for a product to be good, it has to offer fast, visible results. While some beauty brands have you wait for signs that they're "working," Sunday Riley acts quickly — with high-tech ingredients that are gentle on skin but help give radiant results. The brand's Good Genes treatment is formulated with purified lactic acid to help clear skin and visibly reduce lines. Oh, and Riley isn't just the founder, she's the formulator — a cosmetic chemist who has your back (and neck, face, hands, etc.).
Nikki DeRoest Is Your Godmother of Glam
Ahhh, eyeshadow. A complicated product for those of us who desire all its elegance but truly struggle with application that seems even a little complicated. Celebrity makeup artist Nikki DeRoest has an iconic reputation for making effortless glamour A Thing among her A-list clientele. That prompted her to create RÓEN BEAUTY, a makeup line designed by an artist but made for the rest of us and a breeze to apply. The 75 Degree palette is designed to swipe or swirl with a simple finger dab or a wet brush for more saturation.
Nancy Twine Will Bring Back the Shine
Who among us can say they've been in the beauty world since age 5? Nancy Twine can! This OG watched her grandmother craft homemade beauty recipes in her West Virginia kitchen. Years later, Twine found herself in an East Village with a collection of formulas, creating her own haircare products — thus founding Briogeo. This deep conditioning mask is here to repair dry or over-processed hair back to its original shine. (We see you, gray-blondes.) Its natural plant and fruit extracts help revive strands into the glossy beauties they once were.
Ozohu Adoh Wants You to Feel Soothed
Imagine: You love something so much that you manifest it into existence for the good of your community. Now that's power. Ozohu Adoh — entrepreneur, CEO, and founder of Epara — combined her lifelong passion for creating luxury skincare with her personal journey to resolve her own dry, uneven skin. The label prides itself on creating high-quality, science-backed, ultra-hydrating products featuring ingredients from Africa, with formulas targeted for darker skin tones. As Adoh puts it: "The skin issues women have present differently in women of color." The brand's Comforting Body Cream uses organic ingredients that help soothe skin, which feels especially appropriate since the name Epara means "to cocoon oneself" in the Nigerian dialect of Ebira.
Trish McEvoy Will Bring Out Your Romantic Side
Makeup artist Trish McEvoy's mission is simple: Give women "the tools they need to feel confident, powerful, and happy." And that's what she's been doing since founding her brand in 1975. This beauty kit was "inspired by the look of love" — and it's filled with romance, from its rosy pink palette to a sleek (vegan) leather carrier. The set offers everything from a Sexy 4 Eau de Parfum Pen Spray to a vanilla and raspberry eyeshadow palette.
Jo Malone Gives the Scented Escape You Need
If you're ever wondering if that idea in the back of your brain is worth pursuing, then take a little entrepreneurial tip from Jo Malone, who started her fragrance and scented-candle business in her kitchen in 1983 at age 21. She had zero formal training, but it didn't matter: She was determined to make her brand synonymous with luxury. Now, the company creates quality lotions, oils, and fragrances using unexpected ingredients like nutmeg and ginger. Her iconic Wood Sage & Sea Salt Cologne is like walking along the fresh ocean and feels like total joy.
Carol Cole Can Help You Refresh
Who doesn't love a sleek skincare gadget that's designed to help you look less fatigued? Industry powerhouse Carol Cole created NuFACE with her daughters out of their home in Encinitas, California, in 2005. (She'd previously treated clients as a licensed aesthetician since 1985.) The NuFACE FIX Line Smoothing Device is designed for a pick-me-up between pro facials. It uses microcurrent energy to zap fine lines and wrinkles for visibly firmer and smoother skin within 3 minutes. Plus, it looks super-cool.
Joanna Vargas Gives Vitamins to Your Skin
Great skin is Joanna Vargas's sport. The "queen of the naturopathic facial" learned early on that purifying and balancing skin, and helping decrease inflammation, was the key to beautiful results. Her Joanna Vargas Daily Serum is a fan favorite: a multivitamin for your complexion, if you will. It visibly improves skin tone, helps minimize pores, and enhances moisture levels with daily use. It even has an incredible, earthy green look at first pump, akin to a green juice. Exactly what we'd expect from a power facialist.
Laura Schubert and Lillian Tung Have Tamed the Dreaded Ingrown
We're mortal enemies of the ingrown hair: a painful skin occurrence that happens to the best of us. Luckily, Laura Schubert and Lillian Tung have created a pore-clearing, hair-softening product dedicated to eradicating those pesky little ingrowns at the root. Fur was founded by these tried-and-true childhood friends using nontoxic, acid-free ingredients to care for the hair all over your body. Fur Ingrown Concentrate comes in a chic, circular glass container ready to be applied anywhere hair meets skin. Grapeseed, jojoba, clary sage, and tea tree oils make the signature blend feel extra-soothing. Begone, ingrowns!
Joy Harari Skin Secrets Come From The Sea
This founder's holistic journey is dedicated to changing lives through nutrition. Before creating Shore Magic, Harari had been prescribing bone broth to her clients as a remedy for various ailments and improving their skin as an added bonus. After discovering the true solution was the collagen found in the broth, she then went on her mission to find the gold standard of collagen powders and Shore Magic was born. Considered the gold standard of collagen, Shore Magic offers this formula, made from hydrolyzed marine collagen derived from sustainably sourced wild fish skins. (It's also free of additives and synthetics.) Add two scoops into your morning smoothie to help give skin a boost.
Samantha Denis Hears Your Post-Workout Hair Woes
Your hair goes through so many stages. Sometimes it's super-clean, sometimes very dirty, and sometimes you have those in-between moments where dry shampoo isn't really cutting it. For all those moments, allyoos A Quick Clean One-Step Wash is ideal. Founder Samantha Denis started as a hairdresser at 14 years old and wanted to add innovation into the clean-beauty space. Specifically, she wanted a hair product that could get her from yoga to work without having any real time to primp (same). Her creation: a sudsless shampoo that rinses hair clean. Now that's pure magic.
This advertising content was produced in collaboration between Vox Creative and our sponsor, without involvement from Vox Media editorial staff.