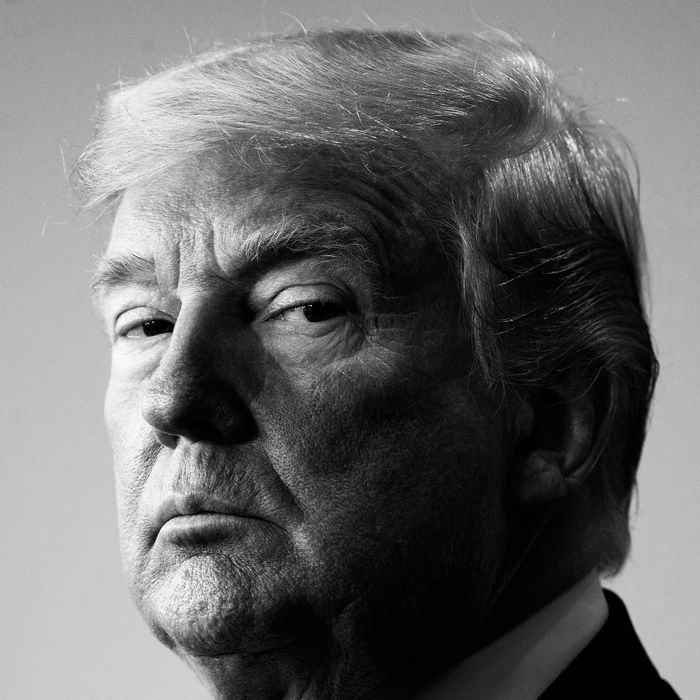 Photo: Jim Watson/AFP via Getty Images
Five days after Donald Trump touted chloroquine as a possible "game changer" in the search for a novel coronavirus cure, a man in Arizona has died from drinking fish-tank cleaner containing the chemical.
On March 20, during a live White House briefing, Trump championed two malaria drugs, chloroquine and hydroxychloroquine, in the fight against the coronavirus pandemic. While there is anecdotal evidence that the drugs may be effective, neither has been tested in a clinical trial yet (the World Health Organization just announced that chloroquine and hydroxychloroquine would be among the drugs tested in a new mega-trial called "SOLIDARITY"). Nevertheless, Trump said that chloroquine has shown "very, very encouraging early results," and that the FDA had "gone through the approval process; it's been approved … So we're going to be able to make that drug available by prescription or states." (The FDA quickly released a statement that it had not in fact been approved.) He later went on Twitter to say, unfoundedly, that chloroquine taken in combination with the antibiotic azithromycin could be "one of the biggest game changers in the history of medicine."
Trump likely heard about chloroquine after it was amplified by right-wing media. The night before his briefing, on Fox News, which he watches religiously, Tucker Carlson had hosted Gregory Rigano, a man who has self-published a Google Docs paper also praising chloroquine. Though Rigano was billed on the show as a "Stanford University School of Medicine adviser," he is not a doctor, and Stanford has denied any association with him. But that didn't stop Carlson and Glenn Beck from hosting Rigano on their respective shows, or Elon Musk from tweeting out the "paper" to his 32 million followers. It was also written up in places like Breitbart and the Daily Wire. After Trump's briefing, Fox News ran a story online with the headline "Drug cleared by Trump, FDA for coronavirus testing also found in fish tanks."
The wife of the man who died in Arizona told NBC News that she and her husband ingested chloroquine after realizing that a product used to clean the couple's fish tank by killing aquatic parasites contained the substance. "I saw it sitting on the back shelf and thought, 'Hey, isn't that the stuff they're talking about on TV?'" she said.
Their intent, she said was to protect themselves from the virus. "Trump kept saying it was basically pretty much a cure," she explained. She and her husband drank the chemical on March 23, after pouring it into soda, and immediately starting experiencing dizziness and vomiting. He died, and she is in critical condition.
"Oh my God, don't take anything," she told reporters afterward. "Don't believe anything that the president says and his people … call your doctor." It is terrifying to think that coronavirus misinformation, already a major problem on the internet, is coming from the very top of our government. Banner Health, the medical center that first reported the man's death in Arizona, says they are receiving more calls from patients asking about ingesting household products to protect themselves. Patients with lupus — another disease treated by hydroxychloroquine — now report a shortage of the medication. On Monday, hours after the couple drank their fish-tank cleaner, Trump was talking about chloroquine again.
This piece has been updated with new information.