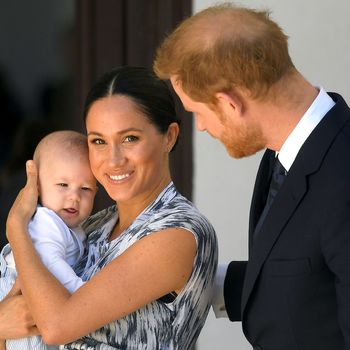 Meghan Markle, Prince Harry, and baby Archie.
Photo: Pool/Getty Images
Please note the story you're reading was published more than a day ago. COVID-19 news and recommendations change fast: Read the latest here to stay up-to-date. We've lifted our paywall on all essential news and updates about the coronavirus.
When Meghan Markle and Harry, just Harry thanks, made their last official U.K. appearance as senior royals last week, they did so without baby Archie. On its face, the decision to let a 10-month-old shelter in place during times like these makes perfect sense. But naturally, critics had their own opinions: Ahead of Harry and Meghan's visit, for example, one of the Queen's former press spokespeople remarked that it would be "spiteful" and "inconsiderate" of the Duke and Duchess not to let Archie see his great grandmother, and that "there isn't an excuse for not bringing him." But I bet, given the nature of travel news lately, you can guess why the couple maybe didn't want to bundle their baby off to another country.
It was coronavirus, of course. Baby Archie reportedly stayed put because of the rampant, worldwide spread of a highly contagious disease. Imagine that!
The Telegraph reports that, before the Commonwealth Service on Monday, Meghan met with 23 young scholars at Buckingham Palace. One of the topics they discussed was public health, which in turn led to the subject of COVID-19, which in turn furnished an answer as to baby Archie's absence. "The decision to leave Archie behind in Canada came not out of petty spite, as reported in some areas," Telegraph columnist Bryony Gordon, who attended the meeting, wrote, "but out of concern for his health during the threat of a global pandemic."
Yeah, seems reasonable enough.