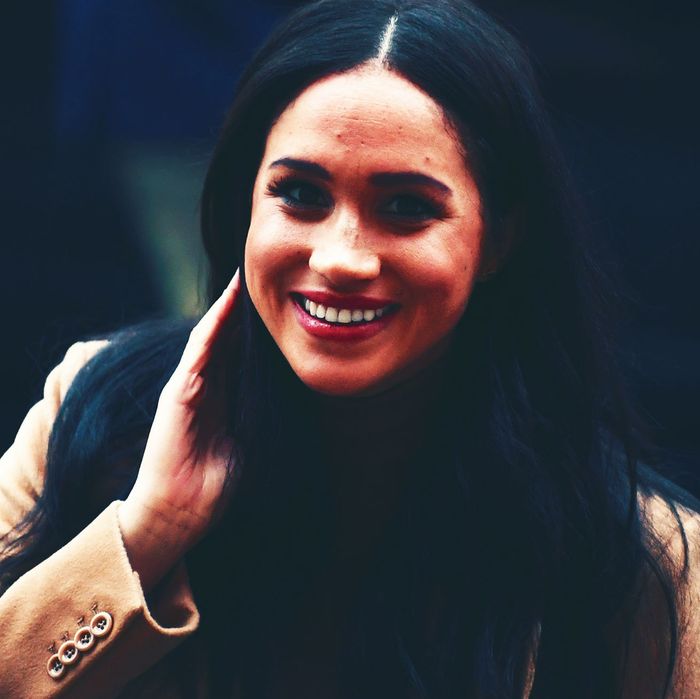 Photo: Daniel Leal-Olivas/WPA Pool/Getty Images
Over the weekend, the Sun reported that Meghan Markle will be attending this year's Met Gala in her first official appearance since stepping back from her royal duties in January. But today, Us Weekly published a conflicting report, with a source quoted as saying that Markle "is not" going to the Met Gala after all. So it sounds like we'll just have to wait and see, though all things considered, Meghan's attendance at fashion's biggest event would make sense. Reports say that she would accompany British Vogue editor-in-chief Edward Enninful, whom she presumably knows after guest-editing the magazine's September issue last year.
This year's gala will take place May 4, and in yet another inscrutable costume directive, the theme is the concept of time itself. Titled "About Time: Fashion and Duration," the topic is pegged to the Met's 150th anniversary and "will consider the ephemeral nature of fashion, employing flashbacks and fast-forwards to reveal how it can be both linear and cyclical," said Max Hollein, director of the Met.
Curator Andrew Bolton says he was inspired by the 1992 Sally Potter film Orlando, adapted from the novel by Virginia Woolf and starring Tilda Swinton as a gender-bending poet who lives for 300 years. Meghan is rumored to be planning a "glamorous androgynous" look for the evening, whatever that means. If she does attend, perhaps she'll give us a couture take on Dalí's melting clocks, or pull from her own exquisite red-carpet archive.
This year's co-chairs are Emma Stone, Lin-Manuel Miranda, Louis Vuitton's Nicolas Ghesquière, and Meryl Streep, who will also be making her first-ever Met Gala appearance. Personally, I'm holding out for a long-overdue Rihanna appearance, who I can only hope will be attending as a sexy Big Ben.
This post has been updated.