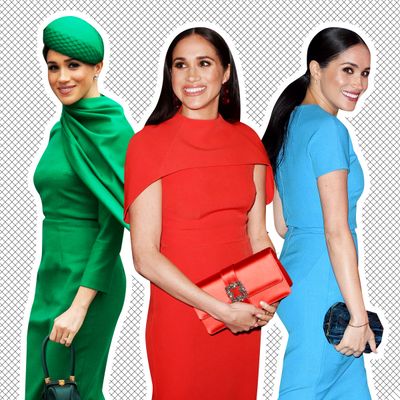 Today, Meghan Markle and her husband Prince Harry completed their last official royal engagement before stepping back as senior royals and assuming a more private life in North America. The event was at London's Westminster Abbey in celebration of the U.K.'s Commonwealth Day.
The couple's impending exit, perhaps, is why Meghan has been more adventurous — even exuberant — with her fashion choices. The past week has seen her taking a delicious journey through the color wheel, opting for vivid, colorful gowns instead of her usual neutrals:
Today's look — technically her final outfit as a member of the royal family — was the most exciting. Meghan wore an emerald cape dress that called to mind That Green Dress Kiera Knightly wore in Atonement (the inseam of Harry's suit jacket was the same shade of green). She paired it with a fascinator, tiny bag, and, most importantly, bare legs (going pantyhose-free is an unofficial breach of royal protocol). The dress is by Emilia Wickstead, a Kate Middleton favorite; it's a look that says, Yes, I'm still a duchess, but I'm no longer bound by the stifling formality of British Royal Family life:
Now, Meghan Markle would probably still look hot in a hazmat suit, but the fact of the matter is that she looks extra good in jewel tones, which she's barely worn for the past few years. In her first year as a royal, her style evolved from its casual, good-pair-of-jeans aesthetic to full-on Royal Family conservative. Her first few months gave us basically every blush tone available, as well as lots of pantyhose and tidy, modest necklines.
I mean, we got a bit of color: most notably the yellow Brandon Maxwell dress she wore to a Commonwealth event in 2018, and a blue Safiyaa gown she wore to an engagement in Fiji the same year. But, for the most part, she kept things pretty neutral while in the U.K. — after all, the British press practically imploded when she wore a dark manicure, god forbid she experiment with color.
So that's why the past week has been a treat. First, she wore an aquamarine Victoria Beckham pencil dress and was photographed opposite her husband in her rain for what might be the most breathtaking image ever rendered. Then, over the weekend, she wore another Saifyaa cape dress, this time in bright red, to the Mountbatten Festival of Music. Talk about going out in style; personally, I hope she ritualistically burns her pantyhose in the Canadian backwoods.