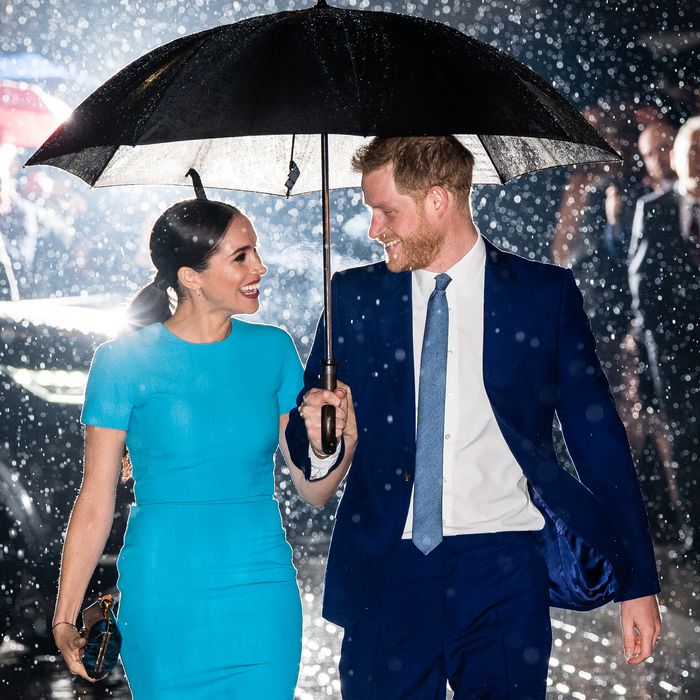 Photo: Samir Hussein/WireImage/Getty Images
Meghan Markle and Prince Harry attended the Endeavor Fund Awards on Thursday, marking their first official joint event since announcing they would step down from their role as senior royals. It was raining, as you can see, and the duo was captured in a breathtaking, rain-speckled moment; the look of love radiating from each of their beautiful faces; the envy of every person in possession of an Instagram account. A lovely photo, and honestly sort of a brag.
"It kinda looks like the Museum of Modern Art's Rain Room exhibit," you might think, before Googling it to find that exhibit — an exhibit which feels fresh in your mind, as if it happened only moments ago — took place in the spring of 2013. You never went to that exhibit, wondering why anyone would want to stand in a long line for an "immersive" experience that, upon closer inspection, turned turned out to be only a photo-op.
Now, years later, we find ourselves in a world of lines to get into photo-ops disguising themselves as immersive experiences. And is the task of living as a member of the British royal family much different? Huh. I urge you to use this lovely, bragging photograph as inspiration — break out of that which is holding you down, say no to the fake-immersive wherever you might find it. Stand in the rain with your loved one — the real rain! Wear a nice blue pencil dress and a smokey eye. Hold an umbrella with your partner. And brag about it!