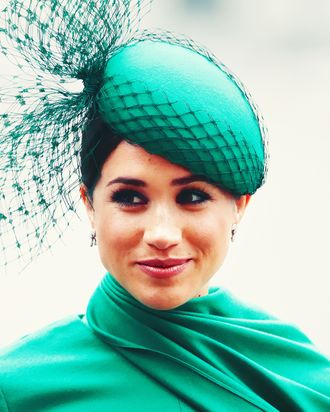 Meghan Markle.
Photo: Max Mumby/Indigo/Getty Images
Meghan Markle will soon be putting her sublime voice to use as the narrator of the new Disney nature documentary Elephants. The job is her first since she and Prince Harry announced that they will be stepping back as senior royals and splitting their time between North America and the U.K.
Before marrying Harry, Meghan was a successful TV actress, but she put her acting career on hold to join the royal family. The pieces for Elephants may have been in place for awhile, though: A video from last July shows Harry making a very suave pitch on Meghan's behalf to former Disney CEO Bob Iger:
His promotion, it seems, has paid off. Variety writes that the film follows an African elephant and her child as they migrate with their herd across Botswana's Kalahari Desert.
This could  be the first of many voiceover jobs for Meghan. Back in January, when the couple announced their separation from the royal family, they explained that part of it would involve becoming financially independent, rather than being paid as royals through the sovereign grant. And Meghan certainly isn't wasting any time: the Sussexes are officially free of royal commitments on April 1st, and Elephants debuts on Disney Plus on the third: