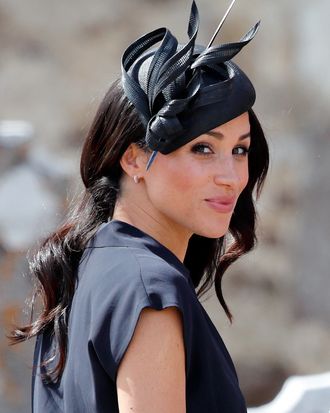 Meghan Markle.
Photo: Max Mumby/Indigo/Getty Images
Meghan Markle's marriage to Prince Harry in 2018 was, in many ways, groundbreaking. Meghan — biracial, American, divorced, and a former professional actress — was unlike anyone who'd ever held such a prominent position in the royal family. And, like Princess Diana before her, she wasted no time using her role for good, releasing a cookbook to benefit victims of the Grenfell Tower fire and building an impressive arsenal of charity projects, many of which supported unemployed and/or vulnerable women. She was relentless with her goodwill and passion to give back, qualities that Prince Harry has said attracted him to her in the first place.
And yet, before and after her marriage, Meghan was plagued by constant, racist and sexist attacks from the British press. They even seized upon her work ethic, amplifying rumors that she "worked too hard" and was too demanding. Throughout this, her estranged family members leaked private conversations to the American press, and rumors that there was tension between Harry and Will added even more scrutiny to the couple. In spite of this, Meghan and Harry continued to attend royal events, following wardrobe and behavior protocol; Meghan didn't even take a break while she was pregnant with Archie, traveling internationally and appearing at events on behalf of the royal family.
In retrospect, it's no surprise that Harry and Meghan announced that they would be stepping down as senior members of the royal family; in recent months, both opened up (as much as a member of the royal family can) about their struggles, particularly with the biased press coverage of Meghan. Now, per an official statement from the pair, their focus will be on "carv[ing] out a progressive new role" in the institution of the royal family. In honor of Meghan's last day as senior royal — and in celebration of her new life — let's take a look back at her brief but significant tenure: