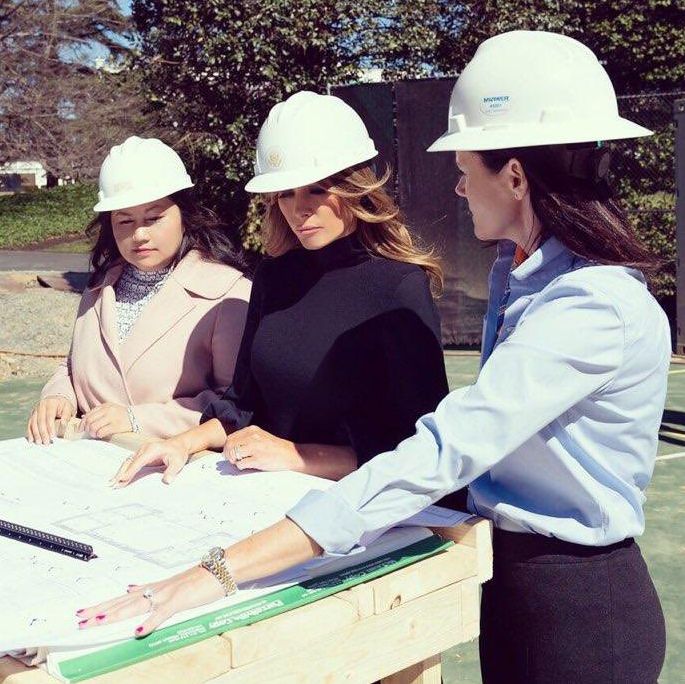 Looking over plans for the tennis pavilion.
Photo: @FLOTUS/Twitter
As a heated presidential primary unfolds in the United States and countries across the world brace themselves for the impact of COVID-19, let's pause for a moment to check in on First Lady Melania Trump. What is she thinking? What does she have to say about the events of the day?
Well, according to a tweet on Thursday, Melania is excited to share the progress made on the Tennis Pavilion at the White House. "Thank you to the talented team for their hard work and dedication."
In the three pictures included in the tweet, we see the first lady wearing a hard hat, and taking part in her favorite activity in times of stress: pointing at things. During the testimony of Robert Mueller in front of the House Judiciary Committee back in July about Russian interference in the 2016 presidential election, Melania shared pictures of herself pointing at plans for the White House Christmas decorations. Ahead of a state visit from French president Emmanuel Macron in 2018, she shared pictures of herself pointing at all sorts of things – chairs, fabric swatches, a white board on the Truman balcony.
Back to the tennis pavilion, though. Melania broke ground on it in October 2018. According to CNN, the proposal from the National Park Service, which runs the White House grounds, includes plans for a structure that will be "approximately 1,200 square feet in area and approximately 18 feet in height," "clad in limestone," and with a "copper roof."
It's unclear when exactly work on the pavilion will be finished, but I have a pretty good guess as to who will be the first person on the court.