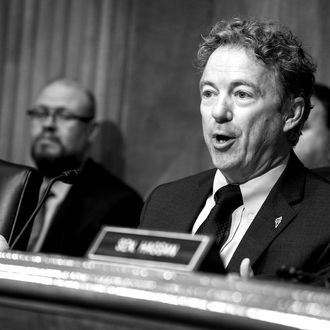 U.S. Senator Rand Paul.
Photo: Sarah Silbiger/Getty Images
Please note the story you're reading was published more than a day ago. COVID-19 news and recommendations change fast: Read the latest here to stay up-to-date. We've lifted our paywall on all essential news and updates about the coronavirus.
The United States Congress confirmed its first coronavirus cases on Wednesday: Florida Representative Mario Diaz-Balart and Utah Representative Ben McAdams have both tested positive for COVID-19. On Sunday, Rand Paul became the first senator to test positive for the virus.
According to the Washington Post, Diaz-Balart noticed symptoms last weekend, shortly after participating in a House vote to pass a coronavirus relief package. On the evening of March 14, he reportedly developed a fever and a headache. He had already been quarantining himself inside his Washington, D.C., apartment, rather than returning to Florida, to avoid putting his wife — who has a preexisting condition — at escalated risk of catching the virus.
Diaz-Balart learned Wednesday that he had tested positive and released the following statement: "I want everyone to know that I am feeling much better. However, it is important that everyone take this extremely seriously and follow CDC guidelines in order to avoid getting sick and mitigate the spread of this virus. We must continue to work together to emerge stronger as a country during these trying times."
On Wednesday evening, McAdams became the second member of Congress to confirm a COVID-19 diagnosis. On Twitter, the Democrat said that he self-quarantined after speaking with his doctor about "mild, cold-like" symptoms on the morning of March 15. Those turned into "fever, a dry cough, and labored breathing," and after getting tested on Tuesday, he found out today that he has coronavirus. McAdams stressed that he has been conducting all business over the phone and will "continue doing [his] job from home" until he can safely come out of quarantine.
On Sunday, Kentucky Senator Rand Paul announced that he underwent COVID-19 testing "out of an abundance of caution due to his extensive travel and events," and confirmed that he is asymptomatic but infected. He has quarantined himself, according to a brief statement shared on Twitter, and says he is "not aware of any direct contact with any infected person."
The U.S. Capitol is, and has been, closed to the public as Congress hashes out emergency coronavirus relief measures.
This article has been updated.
We're committed to keeping our readers informed.
We've removed our paywall from essential coronavirus news stories. Become a subscriber to support our journalists. Subscribe now.