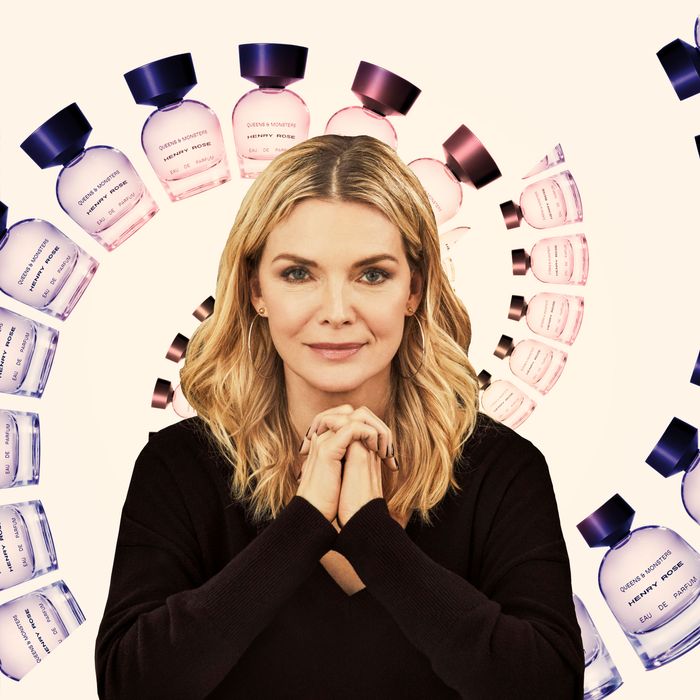 Michelle Pfeiffer
Photo: Courtesy of Henry Rose
Scientific studies confirm that, of all the senses, smell offers the best recall. In Scent Memories, the Cut asks people about the scents they associate with different times in their lives.
Next up is Michelle Pfeiffer, iconic actress and founder of Henry Rose, a line of unisex, clean, and safe fine fragrances that are free of typical red flags like endocrine disruptors, parabens, phthalates, and carcinogens. The brand debuted last year with five scents and recently added its sixth: Queens & Monsters, a woody, zesty blend of sandalwood, neroli, and freesia. The Cut caught up with Pfeiffer to talk blankets, sunburns, and freshly baked bread.
My first scent memory is: My very first vivid scent memory is sneaking across the street and standing underneath my neighbor's night-blooming jasmine. I knew just around the time of day it was going to start really giving off its scent and it was around sundown. It was always disappointing that I couldn't smell it during the day and that it was only certain times of year, but I would just stand near this vine, sniffing.
Happiness smells like: Citrus. Like lemons, oranges, and limes. Sangria.
Love smells like: Vanilla. Actually, I've always loved vanilla, so maybe that's why it smells like love to me. It's very comforting and very creamy and rich. You know, they say vanilla is a lot of people's favorite scents, that it actually makes people feel young, and people associate the scent of vanilla with youth. So, I don't know if that has anything to do with it. Or if that's even true! Also, my husband loves vanilla. I used to wear this very strong vanilla scent when we met, and he always really liked it, but you need to have vanilla mixed with a little bit of something, otherwise you walk around smelling like a chocolate chip cookie. He actually loves chocolate chip cookies, so maybe that's why he liked it …
Regret smells like: An abrasion. Like skin rubbing on asphalt.
Friendship smells like: A pale-blue cashmere blanket.
Heartbreak or loss smells like: Burning rubber, one of the worst smells I can think of. It's a scent that's inescapable and lingers for a very, very long time.
Vacation smells like: Sand stuck on sunburned skin, and later, the burn of the shower pelting that sunburned skin.
Sunday morning smells like: Freshly brewed coffee and newspaper print. That early morning sun on your face, wet grass from the dew.
Monday morning smells like: Nothing. Monday sort of feels like a non-day to me because it's really just a day about looking ahead, what's coming up, and wondering how I'm gonna get it all done, and wishing Friday wasn't so far away …
My home smells: Kind of intoxicating. I have every modification and every intonation of every scent we've ever tried and rejected because I don't throw anything away. So the house is this sort of combination of all of our Henry Rose scents, and because they're so harmonious together, it actually smells divine.
My favorite food smells like: Hot, freshly baked bread, pizza, chocolate chip cookies, vanilla again, freshly brewed coffee. But there's nothing like freshly baked bread, honestly. I don't think there's anything that's better than that smell.
I smell: Pretty boring, right now, because I smell like nothing. We just got in roughly 20 new scents to try and develop to expand our line, and it's really, really exciting because we'll be going in directions that we haven't been able to go into previously. After this I'll run into the office to do some smelling, so I can't have anything on my body at the moment.
If you buy something through our links, New York may earn an affiliate commission.