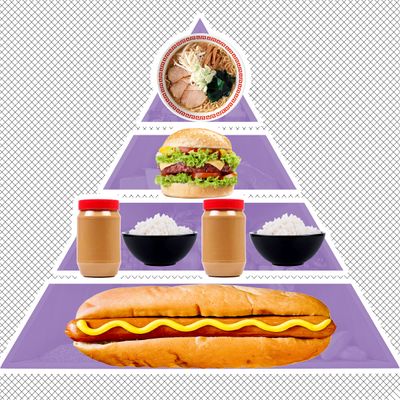 Photo-Illustration: by The Cut; Photos: Getty Images
A few years ago, Utah senator Mitt Romney was lampooned after admitting that his "favorite meat is hot dog" and that his "second favorite meat is hamburger" in an interview with the Washington Examiner.
At the time, many interpreted Romney's remarks as an attempt at fashioning himself more like an everyman, and less like the multi-millionaire he actually is. However, new information about his "favorite food groups" surfaced yesterday, and it seems to indicate that the senator really does love hot dogs and hamburgers.
Yesterday, Romney went into voluntary self-quarantine, taking a private jet from Washington to Utah following potential exposure to COVID-19. In an interview with the Salt Lake Tribune, the senator described his isolation measures, and in doing so detailed what appears to be his personal food pyramid:
"My son Josh brought over tons of food. He went to Costco this morning and brought in all sorts of supplies for me: ramen, rice, beans, peanut butter, hotdogs, hamburger — all of my favorite food groups."
And while this interpretation of "food groups" might leave him with an iron deficiency, it actually works well for a doomsday pantry, especially those delicious beans.