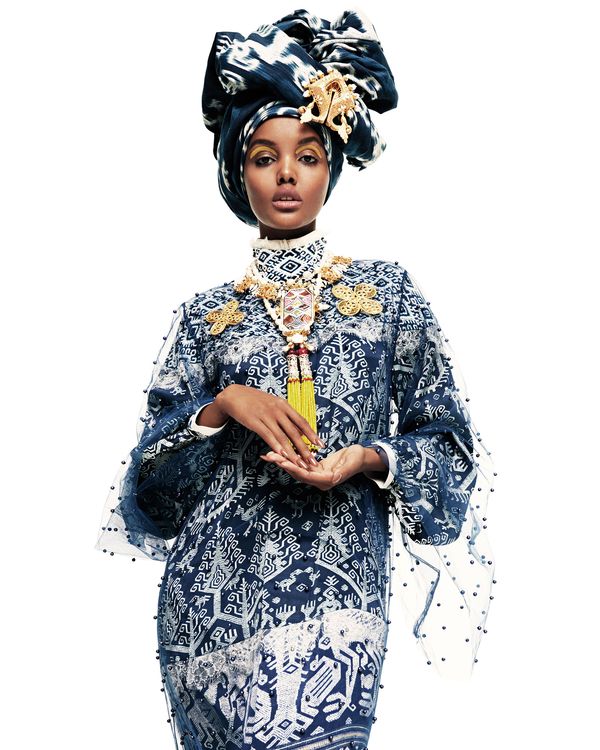 Photo: Sebastian Kim/Courtesy of Cooper Hewitt, Smithsonian Design Museum/Sebastian Kim
When it comes to matters of fashion, Muslim women are often left out of the conversation. "Contemporary Muslim Fashions" at Cooper Hewitt, Smithsonian Design Museum aims to flip that convention on its head. The exhibit recognizes Muslim women as major influences in global fashion.
"When we initiated the exhibition in 2016, we were coming right off the burkini ban," explains Jill D'Alessandro, curator in charge of costume and textile arts at the Fine Arts Museum of San Francisco, where a version of the exhibit first debuted. "There seemed to be a lot of misunderstanding or just lack of information about this fashion sector. And it's a vital sector. It's a growing sector."
D'Alessandro and co-curator Laura Camerlengo wanted to contextualize how global a phenomenon the modest fashion industry has become by highlighting a diverse group of designers from all over the world.
"About half the designers are women under the age of 40," says D'Alessandro. "They're urban, they're sophisticated, they're international. They saw a lack in modest Muslim fashion, and they're creating a wardrobe to suit themselves. They were saying that there [are] clothes out there for them to wear, but they were sort of old fashioned, and they wanted to both be stylish and be covered."
This boom in young designers can be credited partly to social media, D'Alessandro says. After all, fashion is a form of creative expression, and social media provides a platform to share ideas and drive change.
From streetwear to swimwear, this entire spectrum of modest fashion is on view. Keep scrolling to see a selection of designs from the exhibition.
"Contemporary Muslim Fashions" is on view February 28–August 23 at Cooper Hewitt, Smithsonian Design Museum.