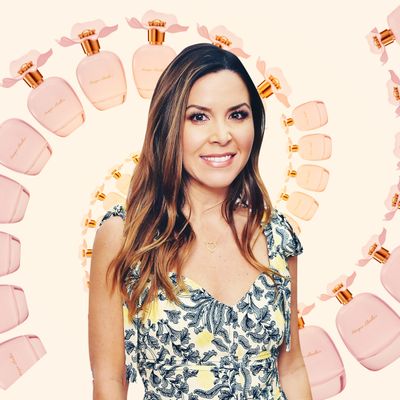 Designer Monique Lhuillier.
Photo: Getty Images, Courtesy of Monique Lhuillier
Scientific studies confirm that, of all the senses, smell offers the best recall. In Scent Memories, the Cut asks people about the scents they associate with different times in their lives.
Next up is fashion and bridal designer Monique Lhuillier. Lhuillier's namesake brand is on the verge of turning 25 and she's kicking off the celebration with the launch of her first-ever fragrance. The namesake scent is a romantic bouquet of hyacinth, freesia, Lily of the Valley, and centifolia rose, rounded out by bergamot and patchouli, and housed in a sculptural floral bottle inspired by the gowns she sends down red carpets and wedding aisles. The Cut recently caught up with Lhuillier to talk clean sheets, coffee beans, and California.
My first scent memory is: Annick Goutal's D'Hadrien scent, because that was my mother's favorite fragrance. Every time I walk by the store in Paris, I just remember being a young girl and smelling that scent around me.
Happiness smells like: Home. I love walking into my house and smelling the fresh flowers I have every week. I love walking in and smelling the cookies my daughter is baking. I love when I come in through my garage, and the first thing I smell is clean laundry. I also love to burn candles that are floral, citrus-y, and clean.
Love smells like: Cozying up with my husband of 25 years and having our kids jump into the bed — after everyone's showered. Love smells like clean sheets and everyone talking about how their day went.
Friendship smells like: A particular trip that I take annually with my girlfriends. We like to go to Napa, so friendship smells like the outdoors, trees, grass, pine, and a little cabernet. It also smells of lavender and eucalyptus because we always go to a spa on these trips.
Heartbreak or loss smells like: The California fires that we've been having so frequently now. You can just smell all the smoke in the air and it really evokes the sadness of people losing their homes, animals being displaced. It happens way too frequently, and hits way too close to home.
Vacation smells like: The Mediterranean air. Citrus flowering plants, fresh pasta, and sunshine. That just transports me to Positano, one of my favorite vacation spots. It's heavenly.
The worst smell is: The sewer. Anywhere and especially in the summertime. There's no escaping it.
Sunday morning smells like: Fresh air and pancakes. Living in California, I like to open all my French windows and have breakfast outside, and we really just take our time.
Monday morning smells like: Coffee, more coffee, and lots of coffee. Starbucks French Roast, regular drip. We brew that stuff early to get up and get started for long weeks ahead.
I smell like: Freesia, mixed with a little bit of bergamot, and some white patchouli. And energy. Honestly, everyone I meet is like, where is all this energy coming from?!…
If you buy something through our links, New York may earn an affiliate commission.