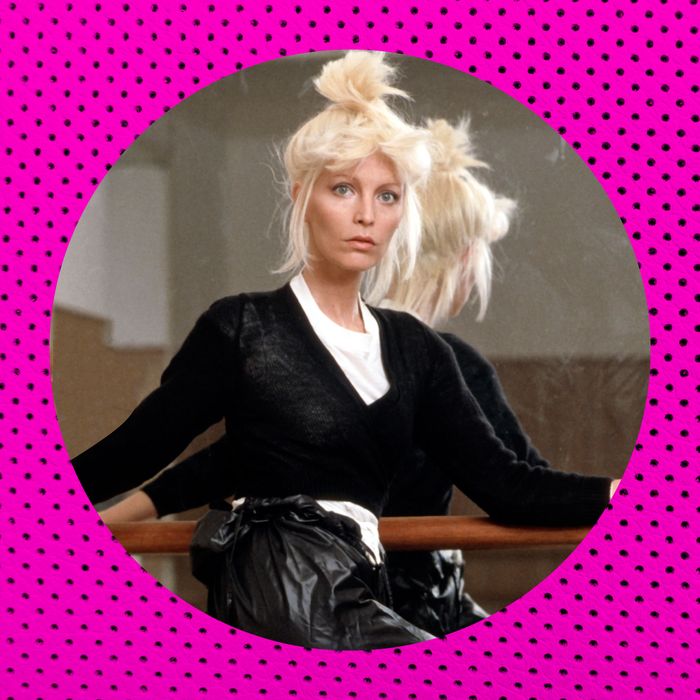 Photo-Illustration: by Stevie Remsberg; source images Getty
Hot Bod is a weekly exploration of fitness culture and its adjacent oddities.
On some instinct to consider the politics of private space and power, I recently glanced through Virginia Woolf's A Room of One's Own and read: Women have served all these centuries as looking-glasses possessing the magic and delicious power of reflecting the figure of man at twice its natural size.
This resonated, because mirrors are very convincing metaphors. And while I've never doubted my delicious power, it's only just now that I've acquired the ability to mingle with disproportionate reflections of men. For a month, I've been communing with an interactive exercise device, the Mirror, designed with shiny projections and jealous aspiration at its fore.
Midmorning in grumpy L.A. February, the Mirror arrives and Josh, a member of their mandatory white-glove installation service, expertly leans it on the wall space between my bed pillow and my laundry basket. As with much holograph-inspired new technology, it's a device that has "Future" written all over it. During setup, an amazing Olympian form — twice the size of a human! — leaps across the screen. The Mirror's surface has a dark glinting chrome finish and when I walk in front of it, I feel that now, Christopher Nolan is directing me.
The app that controls the Mirror's classes has a pleasingly crisp structure. When I pick a class, a two-foot-tall fitness instructor in neon spandex immediately superimposes on my reflection. I appear like a semi-transparent Russian doll with a petite dancer trapped in my torso. Generic rave music spools from the Mirror's speakers. A circle at the top of the screen counts down the time, another circle at the bottom counts up the calories. I spend the rest of the day swapping which trainers can reside on my ribcage.
I attempt to woo my friends to come try out my new toy, but no bites. It's just me and my simulacrum.
In order to bring the Mirror into your life, the company tells you that you only need a space the size of a yoga mat. First, no you don't. Minimum, I think you need a yoga mat squared. On the Mirror's Instagram, their models arrange their devices in a gracious plant antechamber, an underused ballroom, a grand sunlit alcove. I had to sacrifice my nightstand and a crucial standing lamp to carve out a halfway suitable space. In each class I try, I'm always about to kick my bra drawer.
So, virtual reality comes with material concerns. In order to bring the Mirror into your life, you also need real money. The Mirror device is $1,495, a class subscription is $39 a month (only like $20 less than my gym), and setup and delivery is $250. This averages to about $200 a month for the first year, which is cheaper than the Mirror's biggest interactive-boutique rivals, Peloton and Tonal, though they sell real equipment. If disentangled from its subscription or in the case of a power outage, the Mirror becomes simple chrome home décor.
On my second day flickering around my simulacrum, the Mirror strength instructor wears another matching spandex set, this time in a soft pastel rainbow style that looks like the Apple pinwheel stalling out. Over a marimba loop plinking from the Mirror speakers, the instructor welcomes us to this "no judgment zone." There's no one here to judge, Julie. I'm working out with the void. All instructors on the Mirror seem to float in empty, deep space, bobbing brightly on a dark background. I learn that the instructors can't wear black clothes, because they'll disappear.
When I try out a personal training session with the Mirror's camera system, the trainer and I spend the first three minutes sorting out lighting issues. I'm too backlit. I hardly need more encouragement, what with the Mirror's heart monitor continually flashing judgments across the screen at me: "Push Harder" and "Don't Stop Moving." First, Tell me to do something harder if you want me to work harder! Second, I have a very low heart rate! During every day class, I have to wear arm weights the whole time and do jumping jacks during the rest periods for the monitor, just once, to tell me: "You're a Rockstar."
Like any flashy toy, the Mirror endangers the sense of balance in my life. I can't stop using it for like three minutes at a time. I've heard this described as an exercise snack. I leave a half-edited Google doc on my laptop when I stumble into a boxing class and throw punches aimed at my dresses. I mindlessly sign into a cardio strength class where I hoist small dumbbells over my head and do 89,823 squat jumps.
A week in, I start to master my hyper-tailored gym mirage. I finagle the settings to show only my favorite instructors, so I don't have to mess with the other dudes. I learn that I can substitute the Mirror Music (their generic glitch techno) for playlists on my Spotify account.
As a human living in the world my whole life, I find that anything too accommodating breeds suspicions. Mostly, I do not trust the Mirror's rapid calorie count. I learn that other test users saw a big mismatch with the Mirror and their Apple Watch calorie reports. Mirrors don't lie, but then they do.
Though I've kept the privacy cap over the Mirror's camera lens, there's no way to cover the microphone, and my bedmate is evidently mistrustful about the Mirror's creeping. While I'm reading in the morning, they roll over and murmur, barely awake: "In my dream, I was asking you if I could use the Mirror, because it was raining."
I ask them, too desperate to make a sale, "Do you want to use it?"
"No," they say, suddenly awake, "I have to go work and it's not raining."
The Mirror company is tight-lipped about its numbers, but it reports sales in the tens of thousands, which surpassed its 2019 target. In its latest round of funding, the company attracted $34 million, including investments from glossy trend-leaders like Karlie Kloss and Lululemon.
The Mirror founder Brynn Putnam often describes the Mirror as "the third screen in people's homes." I don't know what the other two screens are and I just want my third lamp back. In a phone interview, I ask Putnam what she meant by the third screen. It sounds religious — invoking the holy rule of threes — as she explains it: "The phone is for small informational content, TV is for passive entertainment. The Mirror is immersive engagement." In other words, it's the superego.
The Mirror, as a company, is as go-get-'em ambitious as every trainer, in their encouraging hearts, tells me that I can be. As mentioned in the Mirror's privacy policy, the Mirror reserves the right to advertise to me on my device. It hasn't happened yet, but I am poised. In conversation, Putnam discusses the Mirror's potential expeditions into fashion and medicine. Couldn't I imagine, for example, a personal styling session over my the Mirror? Or a personal contouring tutorial, rather than watching YouTube? Putnam sees an easy leap into physical therapy. And she considers the glasses she's wearing, with her current prescription "woefully out of date." What about an eye exam that quickly segues into a digital Warby Parker shop, and then sharing photos of frames with your friends on the Mirror?
Sadly, my friends still will not share the Mirror with me. I find enthusiastic solace with other the Mirror people. When I do a bouncy cardio class at 8:58 p.m. in L.A., I see a few people tuning in from my hometown, Washington D.C. (There are so many people from D.C. on the Mirror, which doesn't surprise me at all. Try-hards.) This is my favorite the Mirror pastime: looking at the banner of my fellow the Mirror users and calculating the time zone they're working out in.
And I haven't told you about the selfies! After a class, the Mirror app encourages participants to upload a congratulatory workout pic and join the rotating grid of photographed flexes. Hips cocked on jewel-toned yoga mats. A pantomime of wiping brows. Unwilling dogs hoisted into the foreground. Exactly one-third of people have bare stomachs. I wouldn't say it's community, but it is people watching.
It takes me a whole fortnight, but I have finally convinced a friend, Nora, to Mirror with me in exchange for making her a beautiful omelet after. She picks the Tracy Anderson x Goop collaboration and squeals, "She's in a black hole!" The class is too easy, which is good because we drink coffee and gossip the whole time. When we take a selfie, my first one for the device, Nora asks, "Is this a skinny mirror?" Maybe, I think. I like taking nudes in it.
The malaise comes just before the third week: New toy fades to old toy. As with all things that show you your own face, the Mirror is a portrait in self-control. With me, it's either too much or too little. For a few days, the closest I get to the Mirror is to do my eyeliner. I cancel classes at my gym or an aerobic studio, thinking that I'll just use the Mirror instead. But then I don't. In the middle of boxing, I'll wander off to send a non-urgent email. I've become very half-ass through the looking glass.
The Mirror is just too easy to walk away from. When a roommate asks if I can look at some sad plant in the garden, I pause a dance class and then get distracted by a magazine. When I walk back in my room 15 minutes later, I see Tracy Anderson mid-move, like a paused, de-furred panther in a bra-tank.
"Oh, Tracy, I'm never coming back to you," I say aloud to no one.
In the final days of my first month with the Mirror, my inbox starts to flicker with mass emails from every fitness studio I've ever been to, telling me about their strategies to stay virus free in this sick time. Days that feel like months later, the emails come back, saying they've temporarily closed. Friends ask to come over to Mirror if we're put under lockdown — now suddenly that I have something that they want, I have more than one friend. Then, we realize that isolation means that we can't see each other.
Putnam, when we speak, says this isn't something she had imagined. "Business has been very brisk over the past couple months," she says, "whether or not there's a correlation to people spending more time at home or working remotely, this has definitely translated into an uptick for us." It's the future, but it's a different future than we thought.