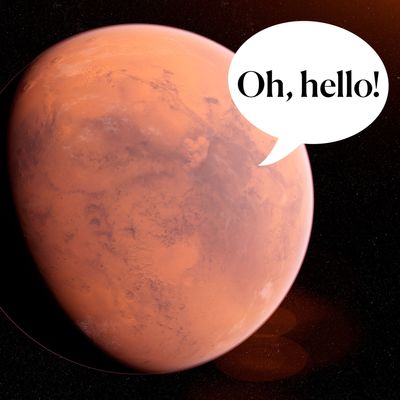 Photo: Sciepro/Science Photo Library/Getty Images
With the exception of those named Archie, we were all devastated when Meghan and Harry didn't decide to give their new baby our name. "What's wrong with Jessica?" Jessicas wondered. "What would be so bad about a name like Matt?" Matts asked across the world. Well, now we have another chance to have our name, and thus ourselves, immortalized, never forgotten, whispered in awe for eternity.
Or do we?
On Thursday, NASA announced the name of its new Mars Rover, the planet's fifth exploratory vehicle visitor. "Oh my God, did they name it after me?" you're wondering. Okay — relax. We're going to get to whether or not they named it after you in a minute.
Each of the previous Mars Rovers (Sojourner, Spirit, Opportunity, and Curiosity) was named by a child in a nationwide contest. This new one is no different. The winning name was announced at Lake Braddock Secondary School in Burke, Virginia; Alex Mather, a seventh grade student there, was the lucky namer. He and his family have been invited to attend the Rover's launch, sometime between July and August of this year, in Cape Canaveral. I think we can all agree that we're happy for Alex.
The naming contest began in August of last year, after which 4,700 judges (people like teachers and space enthusiasts, according to Science Alert) chose 155 semifinalists, which were then whittled down to nine names. Those names were then put to a vote on NASA's website.
So, what name did they decide? Something like Sally? Or Amina? Or Mika? Or Diego? Or Emma? Or Kelly? Or Ben? Or Callie? Or Peter? Or Jen? Or Michael? Or Katie? Or Elijah? Or Bridget? Or Johnny? Or Maddie? Or Spike? Or Amanda? Or Kelly Conaboy specifically?
Let's see …
The name is …
Are you ready …
Perseverance!
The Mars Rover's name is Perseverance. A great day for those of us named Perseverance, indeed, and for those of us not named Perseverance? Well. I guess we'll just have to take a cue from those who are named Perseverance and … persevere. ;) Thank you.