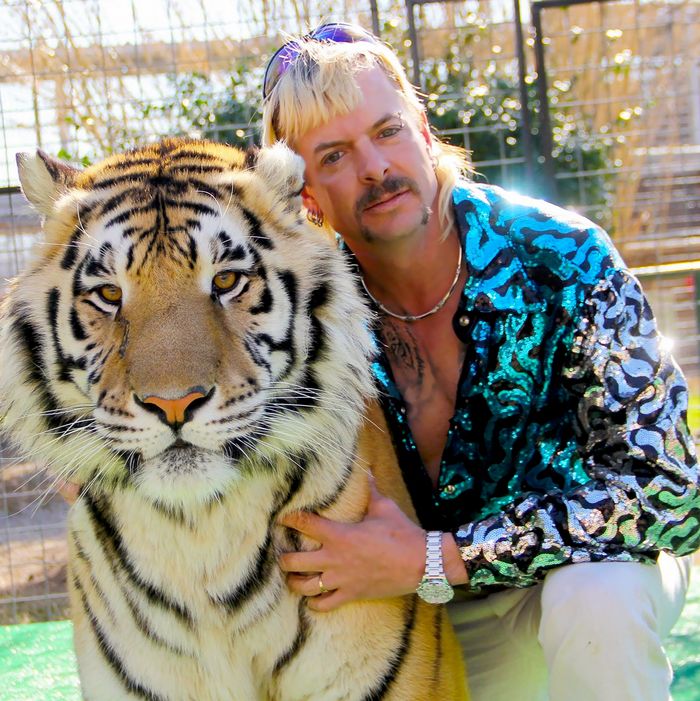 Photo: Courtesy of Publisher/Courtesy of NETFLIX
For many of us, Netflix's Tiger King: Murder, Mayhem and Madness, has provided a much-needed distraction as we've spent more time at home these past several weeks. The docu-series, which follows a series of characters who love big cats and the various misguided ways they advocate for them, is a perfect storm of country music, meth, cults, and baby animals. I can't recommend it enough.
But for now, let's set aside that other stuff, because I want to focus on the fashion. Specifically, I want to begin by looking at the sartorial choices of one Carole Baskin, a Floridian animal advocate who is the arch-enemy of the titular Tiger King, Joe Exotic, an Oklahoma zoo owner, polygamist, and erstwhile country singer. Exotic has claimed that Baskin was behind the disappearance of her millionaire husband, a man 22 years her senior who vanished without a trace in the '90s (she has not been charged with a crime, and denies any wrongdoing).
She's the CEO of Big Cat rescue, a Tampa-based sanctuary dedicated to exotic cats, and she dresses almost exclusively in cat prints — her closet, which we're given a tour of — is a mess of leopard spots and tiger stripes:
Her luggage is leopard print, as are all of her shoes:
In addition to what she calls this "uniform," her favored accessory is a flower crown, which she wears casually over her long blonde hair:
The effect, I find, is striking. The whole aesthetic is sort of like if you only shopped at the zoo gift shop, which who knows, maybe she does. (The only thing that breaks the zoo goddess illusion is her enormous rose gold Apple watch, which you can see in the lede image of this story.)
And while Baskin is certainly the most dedicated to this style-of-dress, animal print is ubiquitous throughout Tiger King. It's everywhere: from a former drug kingpin-turned-exotic animal collector, who sports a graphic tee with a baby tiger —
to the sexy safari looks the women who work in The Institute for Greatly Endangered and Rare Species (are ostensibly required to) wear. The "institute," in South Carolina, is run by Bhagavan "Doc" Antle, who pays the women — some of whom he notes are his wives and/or sexual partners — $100 a week to run the preserve:
The only person whose outfits aren't quite so on-the-nose is Joe Exotic himself. That's not to say he's subtle; his porny, discotheque cowboy style is impossible to miss. It's all fringe, leather pants, and sequin tops unbuttoned to the sternum:
It makes sense that a group of people whose lives are apparently dedicated to the preservation of big cats would be inspired to dress in their image, but it's nevertheless fascinating to see how this particular aesthetic seems to unite them (many of whom, in the Tiger King universe, are mortal enemies.)
Likewise, I can also see how Tiger King styles reflect larger movements in the fashion world. Recall Saint Laurent's spring 2019 collection, which centered on cheetah-printed chiffon; or, more recently, the ridiculous leopard stole Ezra Miller wore to the brand's 2020 show:
The whole thing reminds me of Miranda Priestly's speech on the interconnectedness of fashion in the Devil Wears Prada. Which basically says that, whether you know it or not, fashion is often a force to connect us all; the southern big cat dealer and the Paris Fashion Week attendee. I can't help but find that beautiful.