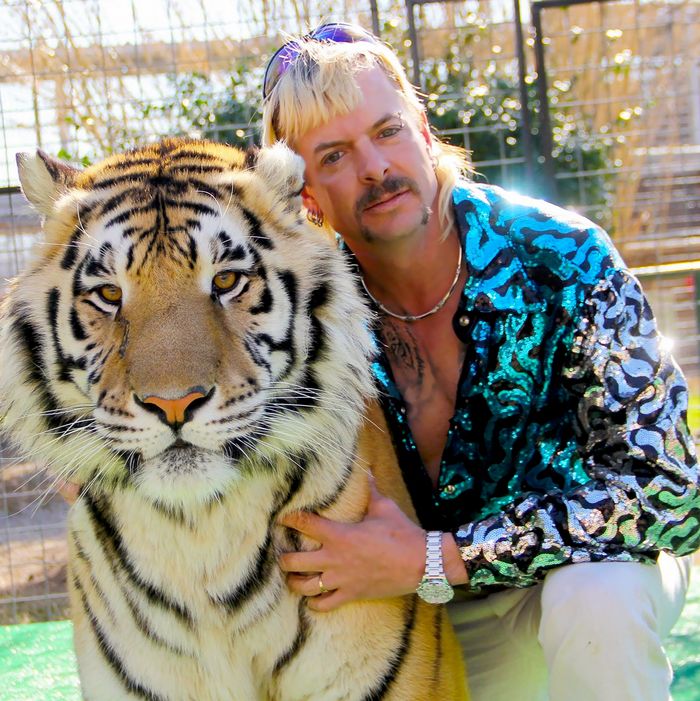 Tiger King.
Photo: Courtesy of Publisher/Courtesy of NETFLIX
Have you ever witnessed something so chaotic that you were rendered speechless for a full seven minutes, and that left you questioning the veracity of your perception? I can now say that I have after watching a truly insane trailer for a forthcoming docu-series featuring countless deranged sights, including but not limited to: a tiny monkey eating a piece of pizza, suitcases full of meth, a zookeeper with a bleach-blonde mullet and heavy piercings, a flower-crown–wearing animal-rights activist, a man riding an elephant through a suburb, and most importantly, a lot of tigers.
Even after watching the trailer for Netflix's Tiger King: Murder, Mayhem and Madness, it's hard to discern what exactly you've buckled in for. From the two-minute video, you glean that the main character is a man named Joe Exotic, a flamboyant roadside zookeeper who moonlights a country singer, and who has gone to prison for murder for hire. You also learn that Mr. Exotic hates no one more than a woman named Carole Baskin, described as the "Mother Theresa of Cats," who's been trying to rain on his unregulated parade of exotic animal breeding and abuse.
Per the trailer's description, the story also somehow involves cult leaders, polygamy, and drug kingpins, resulting in "a twisted tale where the only thing more dangerous than a big cat is its owner." Well, I guess I'm in.
If any of this rings a bell, perhaps it's because you've heard it before: Joe Exotic, née Joe Shreibvogel, ran a real exotic-animal zoo in Oklahoma, was arrested for murder for hire, and was the subject of a 2019 New York's feature. The story is truly as wild as it sounds.
At your earliest convenience, we recommend you watch this trailer, given you have time afterward to lie down on a cool floor and process what you have just seen.