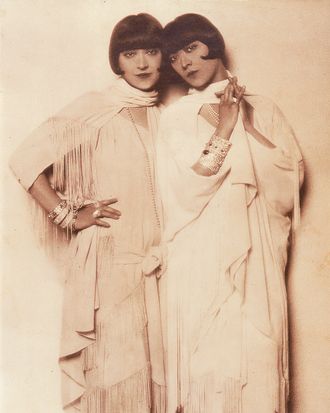 Madame d'Ora (Dora Kallmus) (1881–1963) The Dolly Sisters, ca. 1928–29 The Jewish Museum, New York. Purchase: Photography Acquisitions Committee Fund, 1998–13
Photo: © Nachlass Madame d'Ora; Museum für Kunst und Gewerbe Hamburg
If discrete photographs are musical notes, then the expansive exhibition highlighting 20th-century photographer Madame d'Ora's work is nothing short of a symphony. Though the gallery had yet to be finished during my visit, the narrative could not have been more perspicuous: Madame d'Ora's artistic range, social aptitude, and unparalleled empathy anchor one of the most stylistically diverse and prescient photographic oeuvres of her time.
Despite remaining unknown for years after her 1963 death, that éminence grise resonated with Dr. Monika Faber, the curator behind Neue Galerie's "Madame d'Ora" (February 20–June 8).
"She was a woman who had an essential impact on fashion photography in the twentieth century, and she came from an intellectual Jewish background in Vienna," Faber explains. "Her father was a lawyer, and she [knew] … important Viennese artists like [Gustav] Klimt and all the others."
According to her, "there were a couple of things that [d'Ora] was interested in: the first was her desire to become an actor, but, of course, in bourgeoise Vienna at the turn of the century, it was seen as low-ranking. And second, she wanted to become a fashion designer," which similarly lacked professional prestige. Instead, Madame d'Ora set her sights on becoming a photographer, and a "very special" one at that.
She purchased her first camera box on a trip to Côte d'Azur and began an apprenticeship under the established photographer Nicole Perscheid in Berlin. Shortly thereafter, around 1920, the artist began training her lens on friends from her social circle and solidified a unique methodological blueprint for the many works she would later produce in Paris.
Because d'Ora's early training emphasized the often underestimated comfort of a studio, the photographer's specialty was portraying women as they themselves wanted to be seen. One such woman, actress Olga Schnitzler, was also one of d'Ora's first subjects. At first glance, her portrait appears to be a simple image capturing an intimate moment between herself and her daughter Lili. However, upon closer inspection, one can make out the domineering silhouette of a man and a young boy, presumably Schnitzler's husband and son. In reality, Schnitzler had, per Faber, "tried to break away from [her husband's] dominating influence … to go back to the States." This internal tension was something that, even early on in her career, d'Ora managed to faithfully document.
After World War I, d'Ora continued to capture the unique personhood of everyone and everything she shot, including garments that belonged to the wife of a famous stage designer of the Vienna State Opera House. A woman who preferred tunics and flowing coat silhouettes over au courant corsets, her inclusion in the retrospective confirms that "on one hand, [d'Ora took] photographs of the latest fashion coming from Paris and, on the other, she [worked] with women to develop their own style … that was very far away from the current fashion."
Images of Hungarian coronations and Austrian princesses dressed in nurse garbs and aviation uniforms gave way to complete immersion in Paris around 1923 when d'Ora earned the attention of L'Officiel de la Couture.
From 1925 on, "[d'Ora] was one of the most important fashion photographers in Paris." In fact, she was the first person to propel the notion that "important dancers or important actresses — including Serge Lifar, Josephine Baker, and Damia — could act as mannequins."
The next phase of d'Ora's life and work commenced after living in a semi-underground location in southeast France during World War II, after which she sold her studio. It was during this time that the sudden and widespread death among her family members and friends in concentration camps forever changed her work.
"After [World War II], for the first time, [Madame d'Ora] took photos of the impoverished." "These" — Dr. Faber points to a portrait of a mother with two children at a camp in Austria, before turning to an image of a woman supporting a sick man — "are survivors of concentration camps, and the others are refugees from other parts of Europe … [d'Ora] went to these refugee camps and tried to capture the personality of these people and also their despair."
When asked about the photographer's success in a male-dominated sphere, Dr. Faber offers her insight: "I think she must have been very charming. And then, of course, she was, from her childhood on, very intimate [friends] with artists. Her father had a big art collection, she went to all of the concerts and theaters and so on. So I think this [made it easier] to communicate [with many of her clients]. She was a very clever businesswoman."
The real mystery, however,  lies in d'Ora's apparent erasure from art history. The reason: after her death in 1963, Madame d'Ora's estate was confined to a private German collector until 5,000 images were discovered twenty years later by Faber herself.
What began as a serendipitous discovery led to a revelatory journey in an attempt to piece together the life of a prolific woman who seamlessly captured the vitality of life and the pathos of death. Madame d'Ora was a gifted chronicler who documented half a century, and, in doing so, managed to capture both its politics and its aesthetics. "This," Dr. Faber affirms, "is what photography is all about."