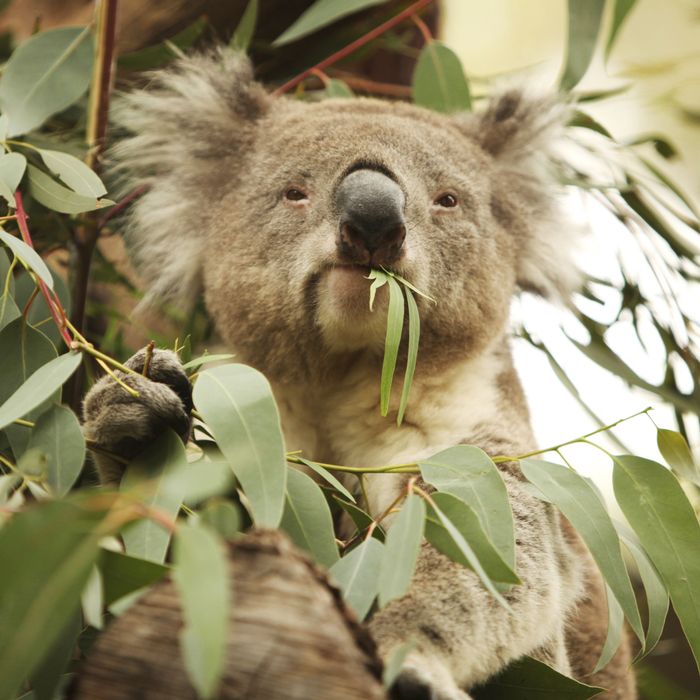 Save this sage koala!
Photo: The Sydney Morning Herald/Fairfax Media via Getty Images
In the over 240 days the Australian bushfires raged across New South Wales, an estimated 1 billion animals died — including at least 5,000 koalas, according to a new report. By comparison to the total, that number may seem small, but it amounts to 12 percent of the koala population in the NSW state. Factoring in this latest loss, researchers believe drought, climate change, and habitat destruction have winnowed Australia's koala count by two thirds over the last 20 years, escalating calls to add koalas to the endangered species list.
"We've taken a conservative approach," Dr. Stephen Philips, koala ecologist and the lead researcher on the study — from Biolink and the International Fund for Animal Welfare — told the Guardian. "But we still think that we have lost two out of every three koalas in NSW. It's a spectacular loss in terms of conservation criteria and meets endangered listing almost immediately."
Outside of zoos, koalas live exclusively in Australia (in Queensland, NSW, South Australia, and Victoria, all areas affected by the bushfires) and eat only eucalyptus. Broad swathes of eucalyptus trees burned in the most recent fires, taking a large chunk out of koalas' food source while also leaving many koalas homeless, severely dehydrated, and in critical condition.
But koala numbers were declining even before the fires: The study tracked population size over three generations, going back about 18 years. In 2012, by the study's count, NSW had about 54,284 koalas; before the fires began in October 2019, that number had dropped by 20 percent.
Because koalas reproduce slowly, with a female birthing at best one joey per year, the surviving populations likely won't recover in time for the next bushfire season, Philips told the Guardian.
"The situation won't get better. It will get worse," he said. "For koalas, the threat for extinction [in NSW] becomes elevated because they won't be able to get their numbers up before the next fire event."
Which is why the IFAW is petitioning the NSW Threatened Species Committee and the environment minister, Matt Kean, to get koalas "emergency uplisted" to endangered from vulnerable. Absent a "firm estimate on the number of koalas affected by the recent fires," the NSW government told the Guardian in a statement, it has convened an independent panel of experts to helm the state's koala strategy. A provisional endangered listing, however, would reportedly block future developments — and potentially also halt some in-process developments — from commandeering koala lands. Keep in mind, these strange little gremlins — with their crazy claw mitts and their tufty ear fur, so reminiscent of mad scientist hair — can't be found anywhere else.
"They're an iconic species here and globally," Josey Sharrad, a wildlife campaigner with the International Fund for Animal Welfare, told the Guardian. "It's unthinkable that we could be at serious risk of losing them in NSW."