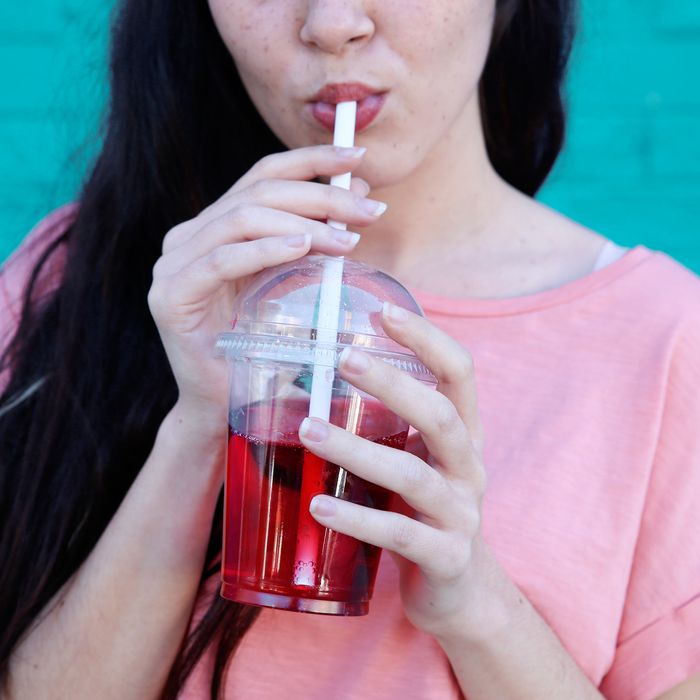 Photo: Westend61/Getty Images
Please note the story you're reading was published more than a day ago. COVID-19 news and recommendations change fast: Read the latest here to stay up-to-date. We've lifted our paywall on all essential news and updates about the coronavirus.
In New York, as well as a number of other cities across the country, bars and restaurants have closed indefinitely to mitigate the spread of the coronavirus. But while the days of commandeering bar patios with friends and making light banter with irreverent bartenders may be over for the foreseeable future, many bars are finding ways to continue serving locals while also adhering to guidelines on social distancing.
On Monday, the New York State Liquor Authority announced that it was temporarily relaxing its ordinarily stringent rules to permit restaurants and bars to sell takeout and delivery alcoholic drinks, from bottles of wine to craft cocktails. According to the new guidance, customers must also order something to eat in addition to any alcohol, meaning you can't buy, say, a scorpion bowl in a bucket without some sort of snack.
As one might expect, the to-go drinks are already quite popular. On their first night of service, Broken Land in Greenpoint, which is selling double drinks in sterilized mason jars that the owners sterilize with wipes before customers' eyes, sold out of all their offerings. ("We expected just a couple of locals," co-owner Tim Murray told the Cut.) Bar Camillo, a Roman bar in Bed-Stuy, has sold at least ten one-liter bottles of their signature Negronis. "Business is booming," Sam Ross, co-owner of Attaboy in the Lower East Side said in an Instagram video on Wednesday night, as he and co-owner Michael McIlroy sipped fancy cocktails while pumping hand sanitizer.
"You don't even have to touch us," Ross added, explaining that they will leave drinks — which come with fancy ice, garnishes, and a bag of chips on the side — outside the bar, so you never come in contact with them.
Ordering to-go drinks is also a way to support the restaurant industry, which is among the hardest hit by the new social-distancing mandates. In response to Mayor Bill de Blasio's order last weekend that all restaurants and bars must shut down indefinitely, many establishments have already been forced to lay off staff, and owners have had difficulty imagining what the future of their businesses will look like. The Commodore, which is selling its beloved high-octane frozen drinks through a window in its Williamsburg storefront, told the Cut they hope to keep as much of our staff employed as possible through this program. The owners of Broken Land, who had to let go of their entire staff earlier this week, are donating all profits from takeout alcohol to their former employees.
It's hard to deny the appeal of a to-go margarita, especially right now. But as public-experts advise against leaving your house except for necessary trips — which includes buying food, seeking medical treatment, and exercising — it's questionable whether grabbing a frozen drink really qualifies as essential. Just today, Governor Andrew Cuomo ordered all New Yorkers to stay at home unless engaged in essential activities — running errands, exercising, or walking pets, for instance — or unless they're engaged in essential work, like health care or food supply. Social gatherings of any size are banned.
Under the new order, both takeout and delivery qualify as "essential retail." So what of take-out drinks? Dr. Jennifer Pomeranz, an assistant professor at New York University's School of Global Public Health, and a member of the Food Service Establishment Advisory Board, a group appointed by Mayor de Blasio, said it was hard to make a definitive recommendation one way or the other. "We're trying to get people to stay home," she said, but she also acknowledged: "If you need to eat, you're going to have to go to a supermarket or a restaurant."
Instead, Pomeranz offered precautions: "If you choose to pick up food, stay six feet away from people, don't touch your face, wash your hands right when you get home. Also, don't turn a restaurant sidewalk into a meeting spot because it's dangerous, and it will also make others afraid to pick up their food, which will hurt the restaurant too."