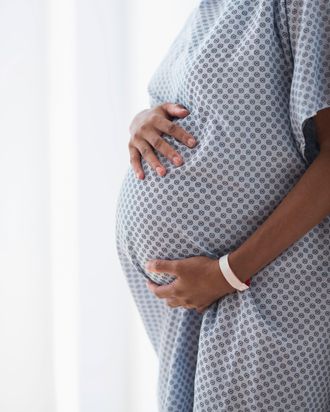 "Women will not be forced to be alone when they are giving birth. Not in New York. Not now, not ever."
Photo: JGI/Tom Grill/Blend Images/Getty Images/Tetra images RF
New York Governor Andrew Cuomo has overruled a policy put in place by two major hospital systems last week, issuing an executive order on Saturday that ensured anyone giving birth can have one support person on-hand during labor and delivery — provided that person does not have a fever.
"Women will not be forced to be alone when they are giving birth," Cuomo's secretary, Melissa DeRosa, said. "Not in New York. Not now, not ever."
In New York City and the surrounding region, now considered the epicenter of the U.S. coronavirus outbreak, the pandemic has already altered many aspects of life, like people's ability to work or leave their homes. It seemed inevitable that childbirth practices would be affected too, and last week, the Mount Sinai and NewYork-Presbyterian hospital networks announced a new set of precautionary measures — including banning visitors while admitted patients are in labor.
According to the New York Times, NewYork-Presbyterian decided on the policy after asymptomatic pregnant patients exposed dozens of medical staff to coronavirus. The patients, meanwhile, wound up in the intensive care unit after giving birth. Last Sunday, Dr. Dena Goffman — chief of obstetrics at Columbia University Medical Center — said during a leadership briefing for the NewYork-Presbyterian health-care system that, "for the time being, we really do need to exclude all visitors, including partners, for women admitted in labor." She said that the new directive was a "very difficult decision and not one taken lightly."
NewYork-Presbyterian also said it would begin testing all admitted patients in labor for COVID-19. Goffman said this decision was made after several admitted patients with few or no COVID-19 symptoms eventually tested positive for coronavirus. Goffman added that some women have slipped through their facilities' COVID-19 screening process because many symptoms experienced during labor, such as fatigue and shortness of breath, "mimic some of the symptoms of COVID-19."
Testing patients in labor would also give doctors an opportunity to isolate newborns who may have been exposed to the virus, warding off potential outbreaks in neonatal ICUs and well-baby nurseries.
Still, the policy prompted backlash among doulas, midwives — some of whom saw a dramatic spike in home birth interest last week — and other medical professionals, as well as a petition that garnered more than 600,000 signatures, the Times reports. It also stood at odds with World Health Organization guidelines, which state that "all pregnant women, including those with confirmed or suspected COVID-19 infections, have the right to high quality care before, during and after childbirth," including "having a companion of choice present during delivery." And although the New York State Department of Health had suspended all hospital visitation "except when medically necessary (i.e. visitor is essential to the care of the patient) or for family members or legal representatives of patients in imminent end-of-life situations," the agency updated those guidelines on Friday to clarify that, "For labor and delivery, the Department considers one support person essential to patient care."
In response to Cuomo's order, spokespeople for Mount Sinai and NewYork-Presbyterian separately told the Times their facilities would cooperate, "effective immediately." Mount Sinai representative Renatt Brodsky added in a statement: "We have always — and will always — make these difficult decisions with the best of intentions and safety of the mother, baby and our staff as our guiding principle."