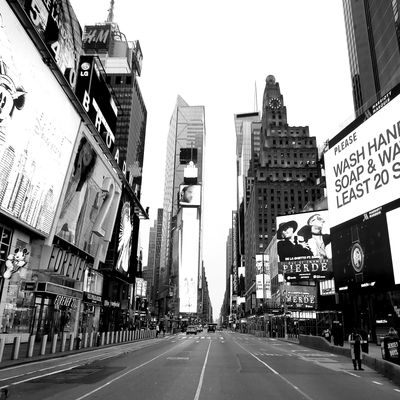 Photo: John Lamparski 2020/Getty Images
Please note the story you're reading was published more than a day ago. COVID-19 news and recommendations change fast: Read the latest here to stay up-to-date. We've lifted our paywall on all essential news and updates about the coronavirus.
On Friday morning, New York governor Andrew Cuomo ordered residents to stay indoors as much as possible and mandated that all nonessential businesses keep workers home in order to slow the spread of coronavirus; he also banned "nonessential gatherings" of any size. His executive order, which goes into effect Sunday night and will last indefinitely, comes a day after California governor Gavin Newsom announced similar restrictions in the state.
Cuomo tweeted Friday morning that he would sign an executive order mandating that 100 percent of the state's workers must stay home, excluding those who provide essential services. Essential businesses that will remain open include all food and beverage stores, pharmacies, convenience stores, farmers markets, hardware stores, and restaurants and bars (for takeout and delivery only). Other services that are exempt from the order include health-care operations, necessary infrastructure such as transportation and power, manufacturing for food and other household items, laundromats, mail and shipping, child care, banks, news media, and homeless shelters. Public transportation will still be running so that essential workers can commute, though New Yorkers should not use it unless absolutely necessary.
Cuomo stressed that this was not a shelter-in-place order, noting that the term evokes panic, though the new restrictions appear similar to measures enacted in San Francisco earlier this week. The governor emphasized that New Yorkers should stay inside as much as possible, and that if they do go out for exercise or shopping, they must stay six feet away from each other. He also banned "all nonessential gatherings of individuals of any size for any reason."
The governor also announced additional restrictions for individuals over the age of 70 and those with underlying medical conditions, who will be allowed outside only for solitary exercise, barred from visiting households with multiple people, and required to wear masks in the company of others.
"These provisions will be enforced," Cuomo said. "These are not helpful hints."
As of Friday, New York had by far the largest COVID-19 outbreak in the country, with more than 7,000 confirmed cases. The state has significantly ramped up testing within the last 24 hours, and Cuomo said that about 1,250 people in the state were hospitalized with the virus.