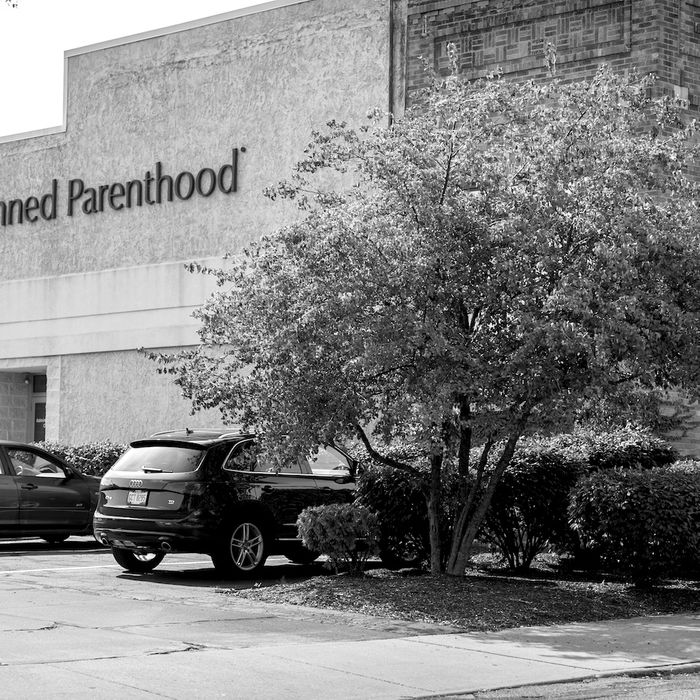 The Planned Parenthood Health Center in Akron, Ohio.
Photo: Mary F. Calvert/The Washington Post via Getty Im
Please note the story you're reading was published more than a day ago. COVID-19 news and recommendations change fast: Read the latest here to stay up-to-date. We've lifted our paywall on all essential news and updates about the coronavirus.
Health officials in Ohio appear to have seized upon the coronavirus pandemic as an opportunity to further restrict abortion access. The state's Republican attorney general, Dave Yost, ordered a number of the state's providers to cease "nonessential and elective surgical" abortion operations on Friday and Saturday.
"If you or your facility do not immediately stop performing nonessential or elective surgical abortions in compliance with the [health director's] order, the Department of Health will take all appropriate measures," the order reads, according to Vox. And while it only went out to three clinics — in Cincinnati, Dayton, and Cleveland — it reportedly applies to all of the state's abortion providers.
Yost reportedly pointed to Ohio Health Director Amy Acton's directive that hospitals delay elective dental, veterinary, and medical surgeries. Acton issued that mandate last week, shortly before the federal government handed down new guidelines pausing nonessential elective procedures. Both policies aim to conserve limited medical resources that will become increasingly necessary as the U.S. coronavirus outbreak grows.
Although federal guidance didn't specifically say which procedures would be affected, it applies to any noncritical surgery scheduled in advance, according to Vox. Officials in other states, including Washington and Massachusetts, have declined to class abortion in the "nonessential" category. While appointments often require some lead time, "The consequences of being unable to obtain an abortion profoundly impact a person's life, health, and well-being," the American College of Obstetrics and Gynecology and the American Board of Obstetrics & Gynecology explained in a statement, responding to the federal recommendations.
"Abortion is an essential component of comprehensive health care," the statement continued. "It is also a time-sensitive service for which a delay of several weeks, or in some cases days, may increase the risks or potentially make it completely inaccessible."
Many people might harbor understandable fears about having a baby amid a medical crisis of this scale, even before factoring in the heightened economic precariousness that has come with the coronavirus. Widespread business closures and layoffs are driving hundreds of thousands of people to file for unemployment, and job-loss projections are reportedly expected to hit 1 million by the end of March. Pregnancy, giving birth, and raising a child are all expensive propositions, and many patients list financial concerns among their main reasons for getting abortions.
Ohio's deputy attorney general, Jonathan Fulkerson, also warned the clinics that the Health Department would "take all appropriate measures" if they did not comply, according to the Washington Post. But Ohio's Planned Parenthood officials insist their centers already are.
"We are complying with the Ohio Department of Health's order regarding personal protective equipment, which requires hospitals and surgical facilities to stop providing nonessential surgeries and procedures and take other steps to reduce the use of equipment in short supply," Iris E. Harvey and Kersha Deibel, respectively the presidents and CEOs of Planned Parenthood of Greater Ohio and Planned Parenthood Southwest Ohio Region, said in a joint statement. Harvey and Deibel noted that they immediately responded to Yost, reiterating that abortion constitutes an "essential procedure."
"Every health-care provider has a role to play, and we are doing our part to conserve needed resources and to protect the health and safety of our patients and staff," the statement reads. "Our doors remain open for this care."