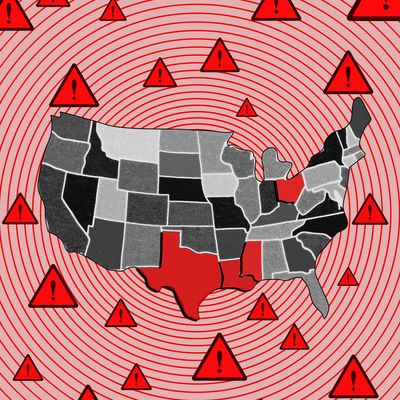 Photo-Illustration: by Preeti Kinha; Photos: Getty Images
As the coronavirus pandemic worsens across the United States, prompting stay-at-home orders in 20 states, economic freefall, and pleas from desperate doctors for basic medical supplies, another crisis is looming. Using all this chaos as cover, an increasing number of states are moving to temporarily ban abortion outright, claiming that it is not essential health care.
Due to the magnitude of the current crisis, lawmakers across the country have temporarily banned non-essential medical procedures to conserve protective equipment for doctors treating coronavirus patients. In most cases, "non-essential" refers to elective procedures, like cosmetic surgeries or colonoscopies. But hardline anti-choicers see this as an opportunity to attack abortion rights: First came Ohio, on March 21, where the state attorney general sent letters to three abortion clinics ordering them to immediately stop all "nonessential and elective surgical abortions" until further notice. Two days later, Texas went even further, temporarily banning all abortions in the state, along with "other medically unnecessary surgeries and procedures," unless the life of the mother is threatened, and stipulating that any provider who doesn't comply could face jail time. And on Wednesday, Mississippi's governor announced that he too would seek to punish the state's one full-service clinic if it continues to operate during the outbreak. (It is still open — for now.)
This is a nearly apocalyptic scenario for patients and providers, who are now seeing their worst fears about a post-Roe America fast-tracked under the guise of protecting citizens' health. They are witnessing the state dismiss the right to basic bodily autonomy as superfluous — as though being forced to carry an unwanted pregnancy to term is akin to postponing routine dental work. "What's happening here is unconscionable," said one organizer in Texas. "It's been a wild and scary few days."
The orders to suspend nearly all abortion services, issued in states that have spent years making the procedure nearly inaccessible for many, have sowed chaos, fear, and confusion. Clinics in Ohio are still open, for the time being; the three that received notices immediately responded to the state attorney general, arguing that all abortion services are essential, and thus don't need to be halted. The situation is more dire in Texas. Per the attorney general's order, providers who remain in operation could be subject to fines of up to $1,000 or 180 days of jail time. Clinic doors shut almost immediately in response. "Our office is now closed down by the attorney general due to coronavirus," a voicemail recording at the Southwestern Women's Surgery Center in Dallas said. (On Wednesday night, Texas providers represented by Planned Parenthood, the Center for Reproductive Rights, and the Lawyering Project announced they were suing over the order.)
The justification that abortion is not "essential" directly contradicts established medical consensus that limiting abortion access has profoundly negative effects on patients' health and well-being. Closing clinics runs the risk of pushing patients toward unsafe alternatives, or causing delays to vital prenatal care for those who do give birth. Making matters worse, in-clinic abortion is subject to several pressing time constraints. Though it's a relatively minor and overwhelmingly safe procedure in most cases, it gets more dangerous further into the pregnancy; additionally, both Ohio and Texas have outlawed abortion at 20 weeks. In states with such stringent laws, delaying an abortion appointment for a few weeks could be tantamount to canceling it altogether. The options, then, are to leave the state, if you can afford it, at a time when half the country is under stay-at-home orders; to attempt an illegal, self-managed abortion; or to endure forced childbirth in the midst of a nationwide maternal mortality crisis.
Women in Texas, where maternal mortality rates are among the highest in the country, are already scrambling to reschedule appointments or leave the state. The New Mexico branch of the Southwestern Women's Surgery Center said on Tuesday that its phones were ringing off the hook, with Texas patients over 600 miles away trying to reschedule their appointments there. Amy Hagstrom Miller, president and CEO of Whole Women's Health, said that they had to cancel 150 appointments. Patients were sobbing, begging the clinics not to close. The Clinic Access Support Network, which helps provide rides, hotels, gas money, and other logistical needs for patients in Houston, was working frantically to "rethink how we operate — in a day," said board member Sahra Harvin. She had to spend Tuesday calling patients who had appointments scheduled, informing them of the news herself. "It's been rough," she said.
"I've had a few [patients] reach out to me who are just like, 'What the fuck am I going to do? I can't wait a month because at that point I'm going to have to be a parent, since the cutoff is 20 weeks,'" Makayla Montoya, an abortion access and sex workers' rights organizer in touch with working class women in San Antonio, told the Cut. "People are scared." In Ohio, too, patients are terrified and confused, even with clinic doors still open. "People in Ohio dont necessarily know that abortion is legal anyway," said Stephanie Sherwood, who runs a fund in the state called Women Have Options.
Advocates fear this is just the beginning: Other states in the South, like Louisiana, which only has one full-service abortion clinic remaining, are in panic mode, waiting for their legislatures to follow Ohio and Texas' lead. That conservatives would capitalize on a public-health crisis to attack the right to choose is unsurprising, but the opportunistic cruelty is staggering. Unemployment has soared to shocking, historic rates; hospitals are overflowing with seriously ill patients, and nurses describe wearing garbage bags because they've run out of clean gowns. Even women with wanted pregnancies are unsure of how they'll give birth safely, or how they'll support their new families amid widespread economic precarity. And lawmakers who identify as "pro-life" are proudly exacerbating the crisis. Adding insult to grave injury, they're doing it by labeling momentous decisions about family planning as unimportant, superfluous, "elective."