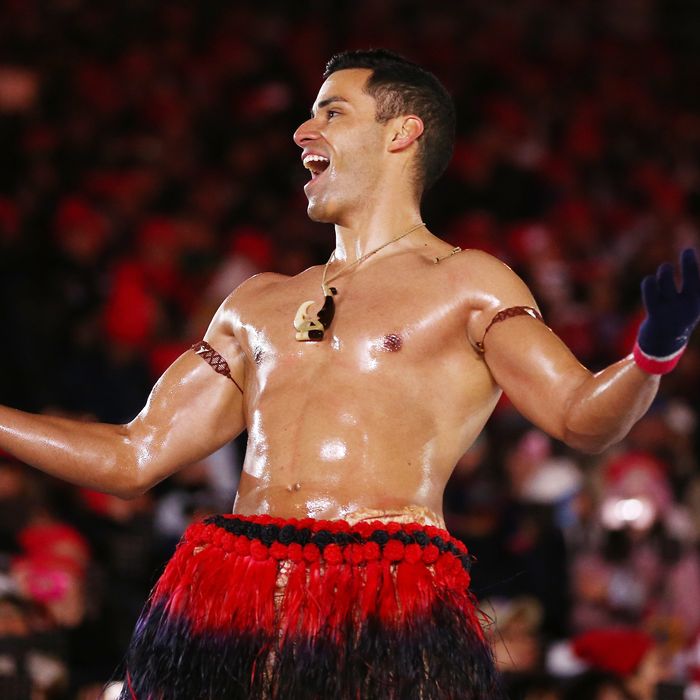 He's back, baby.
Photo: Dan Istitene/Getty Images
The Olympics have officially been postponed due to coronavirus, a prudent and inevitable decision on the part of Dick Pound and the entire IOC, but a gutting one nonetheless. In a year that has, month over month, dramatically outdone itself in devastating events, the promised diversion of an extreme sporting spectacular shone like the sun. Now we will patiently wait one extra year to enjoy the dancing horses; the hyper-competitive beach volleyball; the parade of glistening pecs … or will we?
At least on that last score, Pita Taufatofua is now promising you immediate gratification: The shirtless Tongan flag bearer best known for his commitment to well-oiled abs is streaming near-daily workout videos "LIVE FROM HIS HOUSE!" per the Olympic Channel's Instagram. Yes, that's right, not only will you get to behold Taufatofua's shirtless chest on almost any morning you choose (the tutorials air at 11 a.m. UTC, Tuesday through Saturday), you will also get to see the inside of his home! Because Taufatofua is cloistered inside, doing his bit to mitigate the spread of coronavirus, just like you! (Right?!)
Taufatofua became an Olympic fixture in 2016, when he appeared at the opening ceremony baring a generously lubed six pack and waving the Tongan flag. An outpouring of horniness ensued, but unfortunately, Taufatofua lost his first Tae Kwon Do match, and our thirst turned to sadness. Oh, what might have been.
Mercifully, though, "Tonga Guy" — as he became known — was not finished with us. Taufatofua braved punishing cold at the 2018 Winter Olympics to give us the gift of his shiny shiny torso, showing up sans shirt at the opening ceremony after having taken up cross-country skiing.
And now Taufatofua is back, topless as ever, enticing you out of bed and into some crunches via the power of his waggling pectorals! He has your workout covered, and we have your playlist: enjoy.